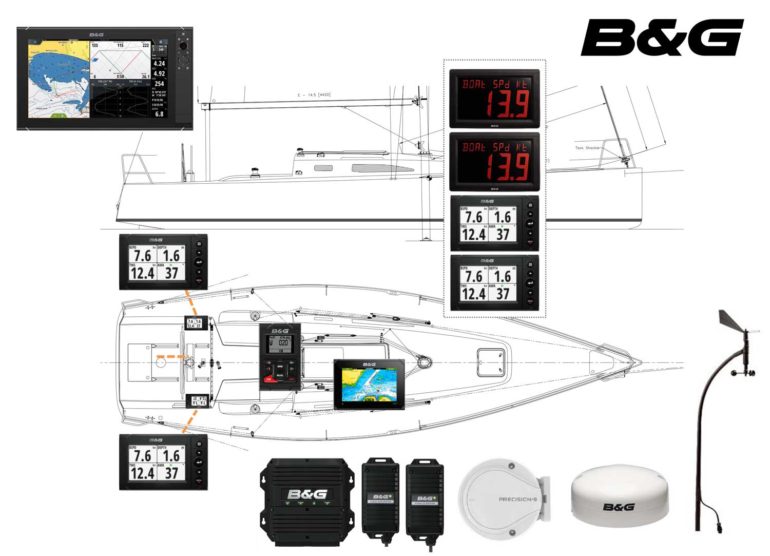 Peter Gustafsson's successful J/111 Blur3, based in Sweden, has had a full suite of B&G H5000 electronics installed over the winter. Peter is a business consultant and wanted to bring his successful 'data driven' approach to getting the best out of his boat. B&G was the natural choice. Peter writes:
"It's no secret that I think instruments are an important piece of the puzzle on board.
I often joke that I'm not a very good sailor, so I have to rely on the numbers to sail the boat fast. But it's incredibly hard to know when a modern boat is sailing at 100%, especially if you are new to the model. Very often, it's not the mode that feels best which is fastest. And other things, like the current, cannot be felt at all but must be measured.
It is the same with business, where I also think that you should be "data-driven", ie measure and analyze, and then continue to measure smaller and smaller components to get a real understanding of how to get better.
How committed our customers are, or whether the profitability of a particular product has increased or decreased is not about feel. Similarly, we are not going to debate how strong the current is or which gennaker is best on the next leg. Based on facts, we know the answers and can devote ourselves to strategic choices and those that require real reasoning.
Already on the Albin Nova we took this seriously, and on both the J/109 and J / 111 we have had a high level of ambition. It has obviously required good instruments and the use of Expedition. But above all, it's important to have a navigator who is passionate. In our case, Patrik Måneskiöld is the driving force, both on board and in technology development. When he is not happy with the GPS positions at a start, he builds his own, much better GPS (last one of the u-blox NEO-7P + Novatel GPS-701-GG). And when we debate how much we lose in one tack, he does a proper analysis.
It is, by the way, a good tip to all other teams with a little ambition – find someone who is passionate about this area and who calls himself a navigator.
This year we are planning even bigger races, so we need to take the next step with instruments and navigation.
For further information you may contact the Official Distributor and Support Center for Greece and Cyprus:
Aegean Electronics SA
4 Zosimadon Str, Piraeus 185 31, Greece
Tel: +30 210 4123000
E-mail: info@aegeanel.com