Echoview 12-beta available for testing
Echoview Software is excited to unveil the beta release of Echoview 12, offering users better performance and supporting the latest technologies available. In announcing these changes, we trust that our commitment to adding this functionality will improve your user experience and further enhance data processing techniques.
So what's in it for Echoview users?
Echoview 12 supports new echosounder and data types, is faster and more responsive during heavy calculations, has new graphical and synchronization tools, introduces new capabilities to our Calibration Assistant, adds mouse pointer duplication, and has a variety of new and improved algorithms.
A little point to be aware of before you start using this version though – while we're sure you'll enjoy all the updates, this is our beta version – so it shouldn't be used for critical data processing because functionality and calculations may contain errors. If you find any, we'd greatly appreciate any feedback on useability and reports of any bugs you may find to be sent through to our Team.
DATA AND INPUTS
New file formats are supported:

Echosounder data recorded by Nortek Signature systems.
Echosounder data recorded using the Simrad EK80 EC150-3C transducer.
Furuno FCV-38 data recorded to SONAR-netCDF4 *.nc files.

Water current speed measurements can be added to Echoview in a text file format and used to determine grid spacings, or to calculate region and school distances (e.g. for data collected from moorings or other fixed platforms).
The Code operator now accepts complex variables as input operands, allowing you to develop custom Python code to manipulate your wideband data.
The Media module has been removed. The ability to synchronize video and images with acoustic data is now available to all license holders.
PERFORMANCE
Echoview's interface is now more responsive during heavy calculations, allowing you to interact and change settings on-the-fly, and to cancel exports while they're in progress.
Many aspects of Echoview are now even faster, allowing you to process your data more efficiently, especially when working on powerful computers.
GRAPHING AND SYNCHRONIZATION
A variety of graphing and synchronization tools have been added or improved, making it simpler to explore multiple variables and data types simultaneously:

All time-based graphs (including lines, heading, pitch and roll graphs) can be auto-synchronized with echograms and other variables.
Video and images recorded on a towed platform (such as a trawl camera) can be accurately synchronized with shipboard data.
New graph properties allow you to customize fixed minimum and maximum limits on both axes. Setting fixed limits allows you to re-graph data whilst easily visually comparing the results.
TOOLS
The Calibration Assistant, a tool to simplify the estimation of calibration parameters, has even more capabilities. New features include:

A sphere calculator to automatically determine the expected narrowband or wideband TS for standard calibration spheres.
Wideband (FM) data calibration.
A calibration report that can be exported to provide a record of data used and calculated results.
Calibration parameters that can be estimated in real time during live viewing.
New graphs for the visualization of calibration data and results.
Access to all Calibration Assistant settings via COM, making it easy to automate the calibration process.

The option to duplicate the mouse pointer across all visible echogram, graph, and cruise track windows, making it easy to cross-reference your data.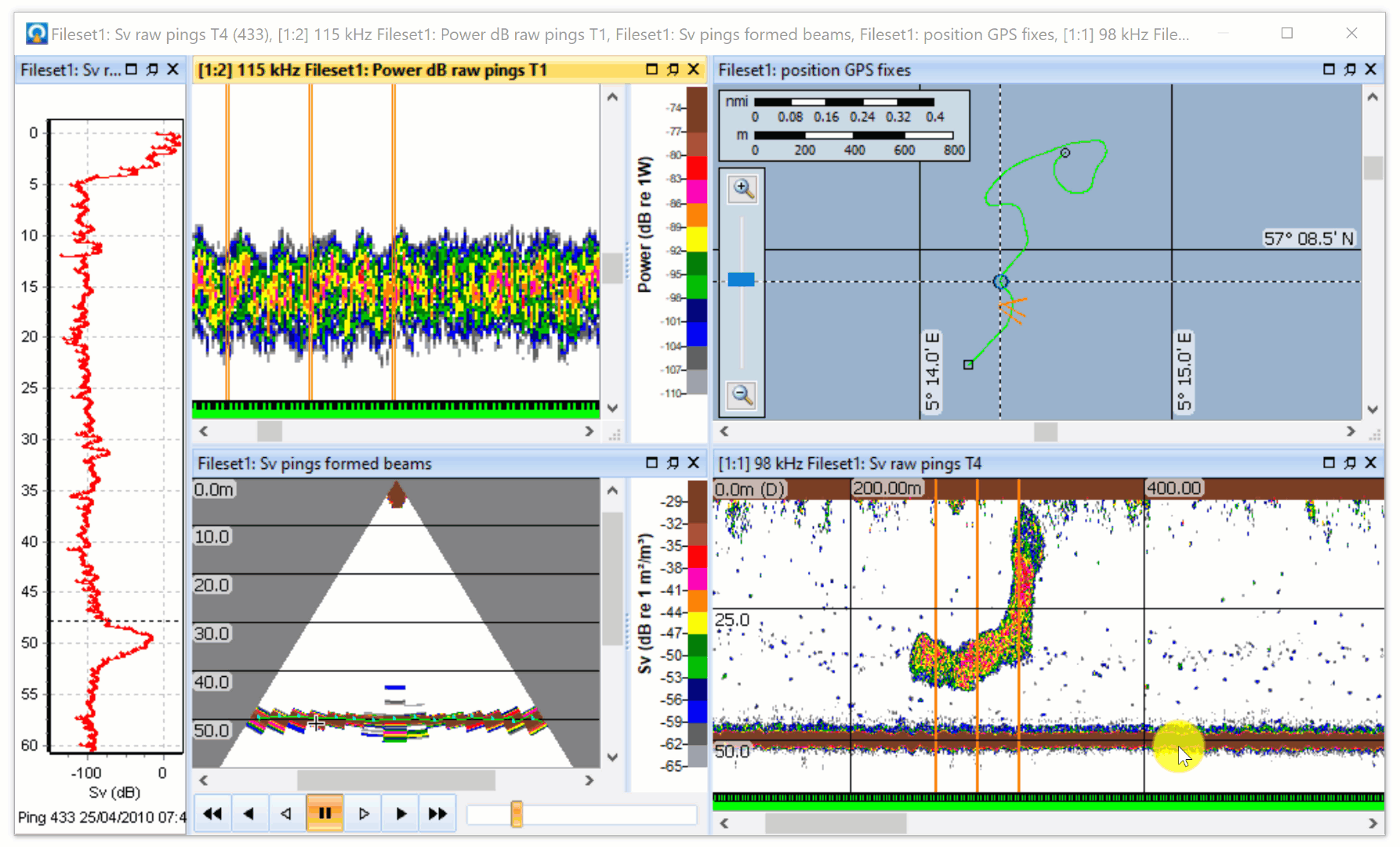 ALGORITHMS
Depth-varying sound speed adjustments using CTD data are now also applied to:

Variables from BioSonics DT4 and Simrad EK80 wideband (in addition to the previously supported Simrad EK60 and EK80 narrowband file formats).
TVG range correction and Sv volume calculations in supported file formats.
The Sv integration window used by the Calibration Assistant
Calculations for several virtual variables

Wideband frequency response graphs and exports now include the option to specify a frequency resolution.
The cruise scanning algorithm for multibeam school detection has been improved when pings overlap.
And there's more! A complete list of what we've added can be found on the "New in Echoview 12" page in the help file that's installed alongside Echoview 12.
Before you do, just remember that Echoview 12 is only compatible with 64-bit editions of Windows 8.1 and Windows 10 operating systems.
The licensed features in Echoview 12 will be available to all license holders with an up-to-date Maintenance and Technical Support (MATS) subscription when we officially release, which will be soon. In the meantime, the beta version can be tested by license holders that have access to Echoview 11.1. Anyone may download and test the beta version in demonstration mode, but usage is restricted without a license.
For further information you may contact the Official Distributor and Support Center for Greece and Cyprus:
Aegean Electronics SA
4 Zosimadon Str, Piraeus 185 31, Greece
Tel: +30 210 4123000
E-mail: info@aegeanel.com