Echoview 14 will not support Windows 8.1
Microsoft ended support for Windows 8.1 in January 2023, meaning that computers running this operating system are no longer receiving feature updates which leaves such devices vulnerable to security risks.
As such, Echoview 14 (due to be released later in 2023) will not be compatible with Windows 8.1, and may only be installed on computers running Windows 10 or 11 (64-bit editions).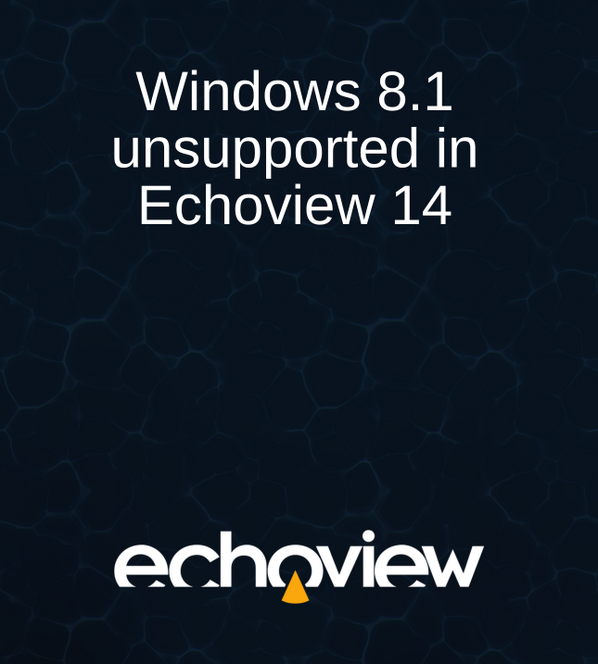 Echoview is the world's premier software package for hydroacoustic data processing. Echoview Software works with governments, scientists, commercial fisheries, and NGOs globally to support the understanding and sustainable use of aquatic resources by providing best-practice hydroacoustic data processing software. Echoview provides solutions for:
Marine
Rivers and lakes
Commercial fishing
Environmental assessment and monitoring
Research
Aquaculture
Echoview offers three licensing options for your organization:
Analysis Suite: for those needing the full power of Echoview and its extensive tools for exploring, processing, and analyzing hydroacoustic data.
Survey Suite: designed to support the collection, visualization, and cataloging of echosounder data, whether in the field or in the office.
Habitat Classification: characterize and classify the nature of submerged vegetation and the bottom from echosounder backscatter measurements.
For more information you may contact the Official Distributor and Support Center for Greece and Cyprus:
Aegean Electronics SA
4 Zosimadon Str, Piraeus 185 31, Greece
Tel: +30 210 4123000