B&G App on iOS and Android, for sailing
B&G®, the world's leading sailing navigation and instrument specialist, officially announced its B&G App this week, which includes a free version and a new premium version that seamlessly synchronizes with the full range of B&G chart plotters. The B&G App is available on both the Apple Store for iOS and Google Play for Android providing enhanced navigation features for sailors and device mirroring.
The B&G App is free to download and offers a rich experience that includes free up-to-date and detailed nautical charts from C-MAP®, personal waypoints, routes and tracks, the latest marine weather, personalization, and much more.
"Ideal for planning your next cruise or plotting your race marks in advance from the comfort of your home, it is simple to step onboard and synchronize directly with your B&G display. Once onboard the app can be used as an extension of your display by using the mirroring and control feature," said Simon Conder, Global Head of Brand, B&G." The App can also be used to review past sailing trips or races, giving you useful data for the next time you want to plan a sail."
Not only does the App allow you to easily synchronize your waypoints, routes, and tracks and control your B&G chart plotters, the App also provides a full range of weather ideal for sailors, both as a forecast and in live data along your route, as an example. In addition, the App offers a simple way to register your device and will provide the latest software updates, product news, manuals, and how-to tips specific to your registered devices.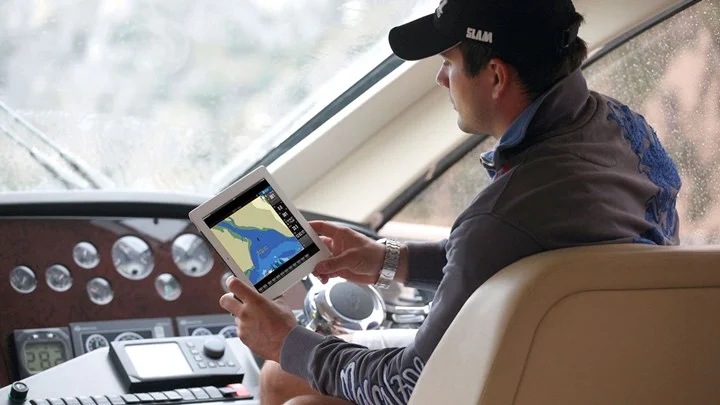 The premium version of the B&G App includes Global charts and offline maps, Automatic Identification System (AIS), B&G App Traffic, 5-day weather along with the route and 5-day weather overlay, GPS navigation data, and line, track record as well as a great range of C-MAP cartography features. Weather data of particular interest to sailors emphasizes wind speed & direction, wave size, sea state, moon phases, tides, and currents giving you all the tools for planning and navigating your next cruise or race.
"Our free App provides a long list of helpful sailing technology and device functionality right to your smartphone or tablet at no cost, whilst the easy annual subscription upgrade gives you the added premium features such as offline charting and enhanced GPS data, AIS, and our new weather overlay for 5-days along your route," Conder added.
The C-MAP charts on the app are carefully designed to highlight what is most important at any given time during your sailing experience, maintaining accuracy and a clean, uncluttered view. Charts are powered by data from official hydrographic offices with data continuously updated and augmented from thousands of data sources provides clarity and detail needed for your routing, whether that's a voyage, race, or a few quick hours sailing with friends on the water.
FREE FOR ALL USERS
View the latest nautical charts
Manual and Autorouting
Manage your Waypoints, Routes & Tracks
GPX Import & Export
Thousands of points of interest
Marine Weather Forecast
Weather Overlay (24 hours)
Weather Along the Route (24 hours)
Chart Personalization
Waypoints & Routes Synchronisation with B&G Chartplotters
Device Mirroring & Control
Device Support: Registration, Guides, and Software Updates
PREMIUM FEATURES
GPS Position & Full Navigation
Offline Maps (Global)
5-Day Weather Along The Route
5-Day Weather Overlay
High-Resolution Bathymetry
Custom Depth Shading
AIS
Traffic: View other App users around
Shaded Relief
For further information you may contact the Official Distributor and Support Center for Greece:
Aegean Electronics SA
4 Zosimadon Str, Piraeus 185 31, Greece
Tel: +30 210 4123000