B&G Software update Summer 2022
B&G®, the world's leading sailing electronics manufacturer, has released a key software update for Summer 2022 for its displays and instruments providing several upgrades for sailors utilizing the B&G Nemesis™ and Triton 2 Instruments, and B&G Zeus™ multifunction displays. The most prominent enhancement is that the new software provides load cell support on the Nemesis™ and Triton™ displays allowing for key information and data to be displayed on the graphical gauges.
"This new software release across our product range offers a number of new features, the new load cell support for Nemesis and Triton instruments are particularly notable and supports the increase in demand for these products," said Matt Eeles, Product Director for B&G. "The lighting control bar for Zeus MFDs is also a key feature, along with many other improvements and minor bug fixes to further support users' sailing experiences."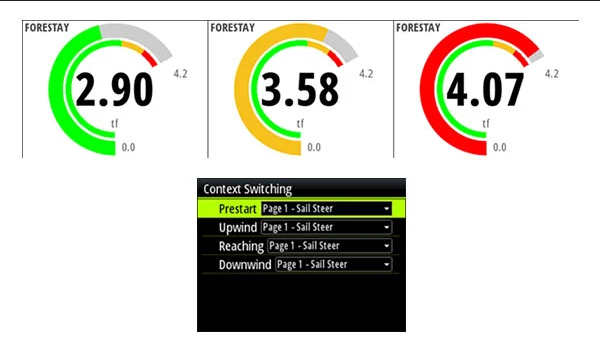 Some of the key updates from the new Summer 2022 software release by-product are:
B&G Zeus™
B&G Account Login – Users can now utilize a single sign-on authentication method to log into their B&G accounts securely and easily via the MFD.
NMEA 2000®RGBW Lighting – A new dedicated control bar allows customization of lighting colors, and brightness as well as creating scenes.
B&G Triton™ 2 System
New Graphical Gauge for Load Cell Data – A new gauge is now available and can be configured on a page allowing load cell data to be shown in a single graphical gauge showing the current data value, name of the load cell data, and any warning and critical alarm levels.
Context Modes – Following the recent addition of context modes in Nemesis™ displays, the new software update enables context modes for stored pages for Triton™ 2 displays allowing key data to be available at times depending on the point of sail.
B&G Nemesis™
Enable Load Cell Data on Analogue Gauges – Load cell data can now be shown on analog gauges on configured dashboards providing more information to the sailor
To upgrade to the latest software version, users can either download the update from the B&G support website or contact their local B&G Support Center. For the Nemesis™ display, the software update can only be done with the Nemesis display connected to the Internet via Wi-Fi or through the wired Ethernet Connection. For systems with multiple Nemesis displays all connected via Ethernet, this software update only needs to be performed on one unit, and once this unit has been updated, all other Nemesis displays will automatically receive the update file.
For further information you may contact the Official Distributor and Support Center for Greece:
Aegean Electronics SA
4 Zosimadon Str, Piraeus 185 31, Greece
Tel: +30 210 4123000