Black Velvet Advanced Design
Black Velvet Advanced Design is a new, modular and customizable foil panel solution designed and manufactured by Raytheon Anschütz, which allows the creation of eye-catching, seamless bridge design with standardized HMI for various bridge control devices. The benefit is having a unified surface design, with common lighting, colors, and fonts, as well as foil-impressed push buttons for common haptics.
The foil panels are based on reliable CAN-bus technology and feature newly engineered, flexibly programmable interfaces to connect with third-party operation devices, for example, engine remote control, bow, and stern thrusters or azimuth controls. Using the panel solution, formerly inhomogeneous control devices of different manufacturers can be adapted to the well-accepted Anschütz design and haptics.
Radar, ECDIS and conning applications by Raytheon Anschütz offer advanced functionality beyond basic IMO requirements to contribute to safer navigation and more efficient watchkeeping. The new NX architecture reduces complexity and offers high scalability, redundancy, and flexibility as well as better resistance to failures. The Small Marine Computer (SMC) is the standard hardware for all workstations. The NautoPlex collects data from all serial attached sensors and distributes the data via LAN to the workstations. The radar video is also distributed via LAN to the workstations. Having all data-enabled to LAN, additional workstations can be easily added to the system. So, each workstation provides data processing and distribution. While the new Synapsis NX Touch Panels are a perfect complement to this solution, focusing on a consistent look and feel, flexibility and the highest level of functionality.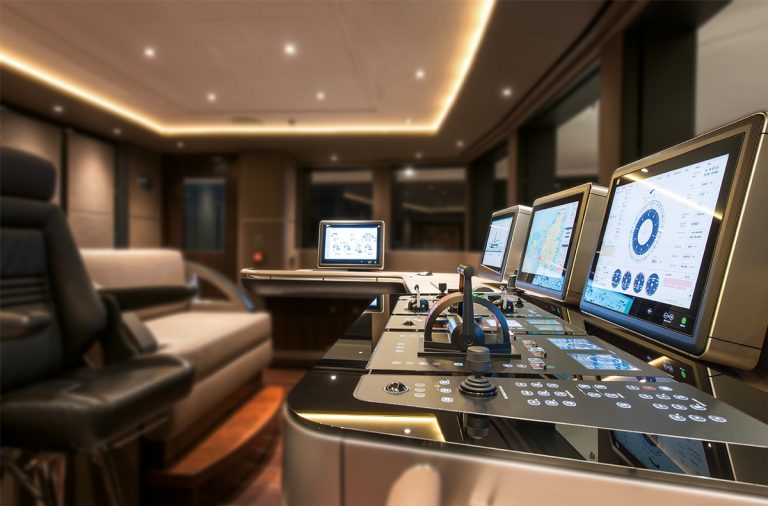 Raytheon Anschütz introduced the new 12.1″ Panel-PC with touch display, to serve as the hardware platform for a central alert management system on INS or bridge level, or alternatively as the hardware platform to control existing or even new functionalities. The functionality provided with these Synapsis Touch Panels (STP) includes but is not limited to window wipers, air horn, searchlights, interior and exterior lightings, remote engine control, stern and bow thrusters, pumps, KVM switches, power management, and dimming.
The GUI is built upon Raytheon Anschütz' recently unveiled Conning NX software and is in line with all the other navigational applications. The flexible software elements will enable an easy adaptation or upgrade to changing requirements and new functionalities in the future. The external hardware is interfaced "below the surface" – either with the PCs directly or via central data collectors within the bridge system.
For further information you may contact the Official Distributor and Support Center for Greece:
Aegean Electronics SA
4 Zosimadon Str, Piraeus 185 31, Greece
Tel: +30 210 4123000
E-mail: info@aegeanel.com