ECDIS NX will meet the S-100 standard
In 2018, Anschütz introduced a new generation of the Electronic Chart Display and Information System (ECDIS). The ECDIS NX generation stands for a user-defined software application that stands out due to its clear menu structure and intuitive operating procedures, patterns, and workflows.
Since its market launch, the application has proven itself in thousands of installations and has been continuously further developed. Continuous product maintenance ensures that software updates and upgrades comply with standards and add new functionality.
The next big game changer will be the introduction of S-100 Data. S-100 is the upcoming standard for Electronic Navigational Charts and other nautical, maritime, and bathymetric data. Unlike other ECDIS manufacturers, Anschütz will meet the S-100 standard with the ECDIS NX and continue to offer an approved and efficient ECDIS in the future. According to current plans, customers will be able to update and continue using their existing ECDIS NX on board in 2026.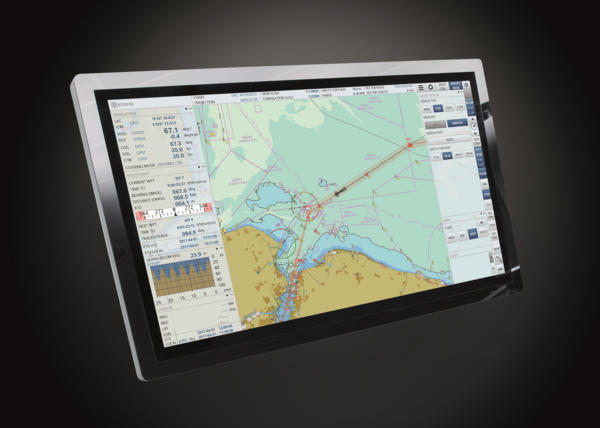 The ECDIS NX has grown to an ECDIS family consisting of the standard ECDIS NX for integrated systems, the Naval ECDIS NX for naval and coast guard ships, and the ECDIS NX Compact, which is an efficient plug & play product based on a panel PC and serves simple and cost-effective installations on commercial vessels and refits.
ECDIS NX includes a multitude of features, ranging from standard ECDIS functions through route optimisation and voyage management, annotations and area alerts up to advanced features for special applications, such as offshore perimeter protection or search and rescue. Fully equipped with naval features in accordance with STANAG 4564 Ed 3, the Naval ECDIS NX can turn into a fully compliant, but type-approved and future-proof Warship-ECDIS (WECDIS).
The ECDIS NX family uses commercial off-the-shelf equipment and procedures. Thanks to its modular approach, it offers customizable capability upgrades in the form of software at any time. Customers only have to pay for the functions they really need.
For further information, you may contact the Official Distributor and Support Center for Greece:
Aegean Electronics SA
4 Zosimadon Str, Piraeus 185 31, Greece
Tel: +30 210 4123000