Fusion Signature Series 24-Volt marine amplifier
Fusion introduced an impressive new addition to the Fusion® Signature Series marine amplifier range: the SG-24DA61500.
This new Signature Series 24-volt 6-channel marine amplifier is designed for boats operating on 24-Volt electrical systems. With a peak power of 1500-Watts, it provides incredible power delivery to your onboard audio entertainment. The plug-and-play setup allows for easy installation without the need for an additional power adaptor.
Designed by musicians and engineered by boaties, the Signature Series is a fusion of these two fundamentals. The result is the formation of a truly immersive musical experience. By incorporating the finest materials with True-Marine™ engineering practices, we have shaped a series so acoustically stunning and at the same time so robust, that it feels right at home on the water.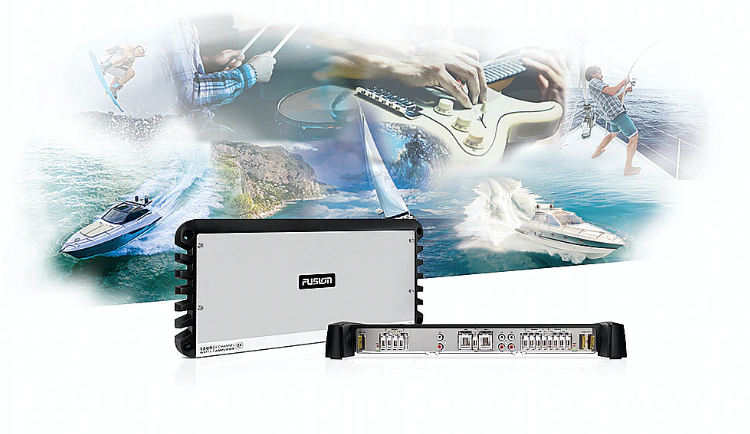 Features:
Class-D Amplifier Technology: The highly efficient Class-D design provides 1500-Watt peak power while drawing less current than a standard Class-AB amplifier. This design provides increased efficiency and power output to your speakers and subwoofers, letting you enjoy your music for longer without needing to worry about battery drain.
1500-Watt Peak Power: With a peak power of 1500-watts, you can easily power up to 6 pairs of speakers OR up to 4 pairs of speakers and 1 subwoofer.
Marine-Ready Design with Conformal Coated PCBs: Extending the life of your amplifiers, the Signature Series amplifiers are designed specifically for marine use with conformal coated PCBs to provide extra protection from the marine elements.
Rigid Aluminum Alloy Heat Sink: Molded to form a singular die-cast chassis, the fin layout is calculated with precision to increase the surface area of the heat sink and improve heat dissipation.
Stainless Steel Mirror Finish: The polished stainless steel control panel cover conceals and helps protect all cable connections and the settings control panel while providing an attractive finish to complement any installation.
Speaker Configuration: Whether you require 2 ohms per channel or 4 ohms bridged, the Signature Series amplifier has your installation options covered to achieve optimum output levels. Connect up to 2 speakers per channel (2 x 4 ohm speakers in parallel) with the SG-24DA61500.
Zone Designation: To align with the Fusion Entertainment System Zone philosophy, the input and output connections are labeled as zones.
True-Marine Design: As a True-Marine product, the Signature Series marine amplifiers are designed and engineered for the harsh marine environment. Once a product has been subject to rigorous environmental testing and passed our stringent True-Marine approval process, it is awarded the accreditation and recognized with an industry-leading 3 year consumer warranty.
For further information you may contact the Official Distributor and Support Center for Greece:
Aegean Electronics SA
4 Zosimadon Str, Piraeus 185 31, Greece
Tel: +30 210 4123000
E-mail: info@aegeanel.com