Kahlenberg M-512 Signal Controller
The new Kahlenberg M-512 Sound and Light Signal Controller significantly improve safety by producing automatic sound and light signals required for navigation as specified by IMO COLREGs, SOLAS, and USCG. It supersedes our popular M-511C model with greater functionality plus a user friendly and more compact control panel (upgrade adapter plates available). Producing automated restricted visibility (fog) codes, maneuvering codes, and general emergency alarm codes per IMO and SOLAS requirements, the new M-512 sound and light control can control up to two horns, and/or two Morse signal lights. It can also be configured for use with external alarm systems and sound surveillance systems. The M-512 Signal Controller is one of the several marine signal controllers available from Kahlenberg, and provides extensive functionalities to suit the needs of almost any arrangement combination onboard modern ships, as follows:
At-Will and Automatic Control of up to two horns and/or two Morse lights
Connects to any additional external push buttons
Generates Restricted Visibility Codes (Rule 35) and Maneuvering Codes (Rule 34)
Produces SOLAS General Emergency Alarm Code (or passes through GEA from external alarm panels)
Mute Connection for External Sound Surveillance Systems
Multiple M-512 Units can be connected for multiple onboard locations
Illuminated, Dimmable Display and Dimmable RED L.E.D. Indicator Lamps
CAN Connection for PC or external switch activation of all functions
Replaces previous Model M-511C in D.C. Versions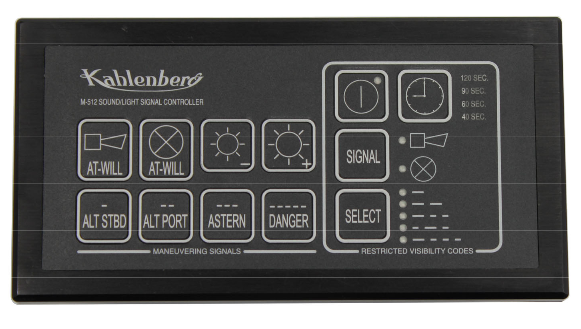 Established in 1895 as Kahlenberg Brothers Company, Kahlenberg Industries, Inc. is a leading manufacturer of sound signaling products, primarily consisting of pneumatic air and electric horns for marine, industrial, and mass notification use. Customers include the largest navies of the world as well as hundreds of O.E.M. manufacturers in the Shipbuilding, Construction, Mining, Construction Equipment, Mass Transportation, and Safety and Security industries. Kahlenberg Industries Inc. is an ISO 9001-2015 certified corporation located in Two Rivers, Wisconsin. The Kahlenberg Industries' production facility currently occupies over 45,000 square feet of production space and includes a certified fully anechoic sound test chamber with test equipment capable of finite frequency analysis and sound pressure level testing to over 150 decibels. Marine sound signaling equipment is tested to IMO, USCG, and special customer requirements, and certified by ABS, ABYC, NMMA, British MCA, Canadian DOT, RINA, and other National Authorities and Classification Societies. All Kahlenberg products are manufactured in Two Rivers, Wisconsin, U.S.A. and are exported through an extensive global network of sales offices and distributors.
For further information you may contact the Official Sales Office and Support Center for Greece and Cyprus:
Aegean Electronics SA
4 Zosimadon Str, Piraeus 185 31, Greece
Tel: +30 210 4123000
E-mail: info@aegeanel.com