Kahlenberg Z-320-SC, a new concept
The Kahlenberg Model Z-320-SC Self Contained Horn represents a new concept in sound signaling for vessels over 75 meters in length. Using an internal, direct drive air source, this new horn is pneumatic in nature but requires no external compressed air source. Only one low amperage A.C. single-phase or three-phase electrical connection is required for power. Completely contained in a thermostatically controlled, heated, IP-56 enclosure, the Z-320-SC offers a new standard for reliability and longevity in harsh marine environments, previously only matched by pneumatic horns that require an external air source. The Z-320-SC utilizes a special motor controller, Kahlenberg Model M-66, for use with 50 Hz A.C. power applications. For dual whistle applications on vessels 75-200 meters, it may be paired with KM-250-DVM-H Air Horn.
Main features
Type approved for vessels 75-200 meters in length
Self-contained, no external air supply required
Highly reliable, lowest installation cost
Rated for continuous duty
Audibility: 1.5nm (IMO)
Fundamental Frequency: 330 Hz
SPL (Loudness) on Total: 147.5 dBA @ 1m
SPL (Loudness) 1/3 Octave: 138 dB @ 1m
Electrically Powered: 110-240 V.A.C. 1 Ph 50/60Hz, or 230/460 V.A.C. 3 Ph. 50/60Hz
Power Consumption: 8.6A @ 230V 1Ph, 2.4A @ 460V 3Ph
Exceptional corrosion resistance with: Brass horn body, reinforced fiberglass enclosure with grey or white gelcoat finish, aluminum base
Thermostatically controlled heating for extreme climates with operating temperature: -40ºC to +69ºC
Degree of Protection: IP 56
Net weight: 48 kg
Basic Dimension: 895mm x 533mm x 520mm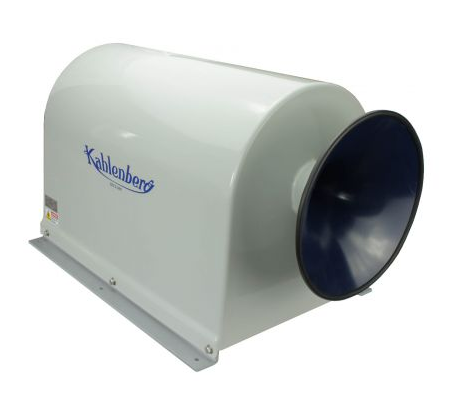 Established in 1895 as Kahlenberg Brothers Company, Kahlenberg Industries, Inc. is a leading manufacturer of sound signaling products, primarily consisting of pneumatic air and electric horns for marine, industrial, and mass notification use. Customers include the largest navies of the world as well as hundreds of O.E.M. manufacturers in the Shipbuilding, Construction, Mining, Construction Equipment, Mass Transportation, and Safety and Security industries. Kahlenberg Industries Inc. is an ISO 9001-2015 certified corporation located in Two Rivers, Wisconsin. The Kahlenberg Industries' production facility currently occupies over 45,000 square feet of production space and includes a certified fully anechoic sound test chamber with test equipment capable of finite frequency analysis and sound pressure level testing to over 150 decibels. Marine sound signaling equipment is tested to IMO, USCG, and special customer requirements, and certified by ABS, ABYC, NMMA, British MCA, Canadian DOT, RINA, and other National Authorities and Classification Societies. All Kahlenberg products are manufactured in Two Rivers, Wisconsin, U.S.A. and are exported through an extensive global network of sales offices and distributors.
For further information you may contact the Official Sales Office and Support Center for Greece and Cyprus:
Aegean Electronics SA
4 Zosimadon Str, Piraeus 185 31, Greece
Tel: +30 210 4123000
E-mail: info@aegeanel.com