Kaleidescape releases latest kOS, 10.15.0
Kaleidescape strives to improve the user experience with automatic software updates. With our latest update (kOS 10.15.0) being deployed to all players and servers over the month of May, we have improved overall performance, added a new dealer demo mode, and are introducing a new remote control for Strato players.
New Dealer Demo Mode
Inspired by the cover shuffle video we launched in March; a new dealer-only demo mode replaces the existing screensaver for dealer systems. Demo mode navigates to the view of the cover and begins highlighting covers, opening movie detail sheets, and shuffling covers automatically—displaying content on your system. Demo mode is identifiable by the banner at the bottom of the screen, which will include our logo. The logo will shift left to right to avoid burn-in. Once you are ready to use the system, simply interacting with a remote control or control system will end the demo mode.
The new Kaleidescape dealer demo mode will create an easy way for Kaleidescape to be visible in showrooms and initiate conversations about our products.
New Remote Control for Strato Players
A new remote control has been chosen to replace the previous white remote control for Strato players. The new remote control is intuitive and features a streamlined set of buttons. In this kOS release, we have added support for new commands including: Search, Back, Play/Pause Toggle, and Closed Captions. There is no number pad on the remote, so some interfaces on the OSD that require number entry have been modified to use an onscreen number entry. The remote control will be included with new Strato players and available for purchase as an add-on in June.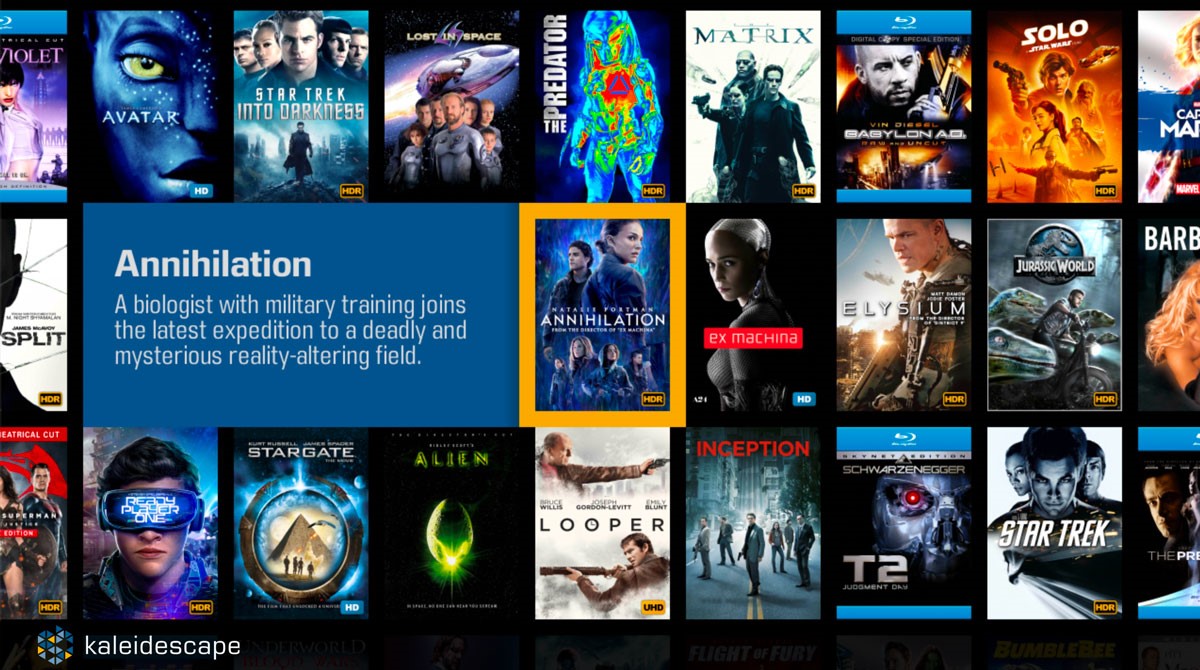 Performance Improvements and Fixes
We have made several behind-the-scenes improvements to enhance the playback experience, including:
Refined management of the "New/Played" collections

You can now easily move a title back and forth between the "New" and "Played" collections
"Add to Collection" has been updated to separate User and System collections
"Played" collection has been added to the System collections group
"Create a Collection" has been moved to the bottom of the User Collections list

Bug fixes
Kaleidescape provides a white glove service for private yachts, the Marine Movie Store; with nearly 14,000 titles available in reference quality 4K HDR, lossless Dolby Atmos, and DTS:X audio. In addition, Kaleidescape offers more than 700 4K UHD titles not available on Blu-ray Disc. So, no internet? No problem!
For more information about Kaleidescape systems and the Marine Movie Service you may contact the Official Distributor and Support Center for Greece and Cyprus:
Aegean Electronics SA
4 Zosimadon Str., 185 31 Piraeus, Greece
Tel: +30 210 4123 000
E-mail: info@aegeanel.com