New B&G Triton Edge sailing processor
B&G®, the world's leading sailing electronics manufacturer, has debuted the new B&G Triton™ Edge sailing processor, delivering the most advanced processor ever to hit the sailing market. Triton Edge is the brains behind a sailboat's electronics and onboard data systems.
With the Triton Edge, ultra-fast processors deliver an enhanced suite of accurate sailing data to your B&G Triton and Nemesis™ displays, B&G Vulcan™ or Zeus™ chartplotters. The information can also be accessed via a web server, allowing you to upload data recordings to the cloud to be viewed, replayed, and analyzed in the B&G Companion App.
"Triton Edge is designed for sailors running a cruising or dual-purpose cruising/racing system and provides the sophistication and expanded information you need to sail faster and make better decisions out on the water without over-complication," said Tracy Cox, Global Brand Manager, B&G. "It provides sailors and skippers with a wealth of benefits, primarily by expanding on sailing data and enhancing accuracy through improved calibration and management of data sources."
B&G's sailing processors have been tried, tested, and perfected in some of the toughest and most intense sail racing conditions on the planet including The Ocean Race, Round the Island Race, and SailGP and offshore sailing programs like Boris Hermann's Team Malizia and 11th Hour Racing, and – with the launch of the new Triton Edge, B&G delivers the same kind of performance for cruisers and club racers.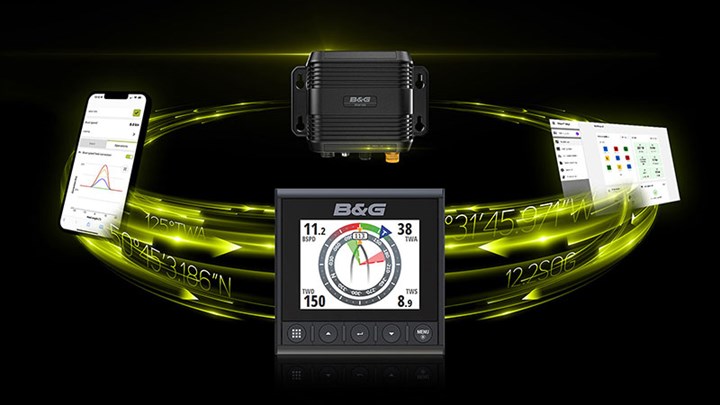 "Our heritage and sail racing DNA inform our product line-up and are what makes B&G stand out, our advanced sailing processors like the new Triton Edge are no different," said Cox. "You'll be faster, smarter, and have more intelligent information with Triton Edge."
Enhanced sailing data and additional sailing-specific features include advanced start line calculations, advanced true wind data and autocalibration, boat speed calibration and correction, wind correction for heel/trim angle, improving the sailing data displayed to the user, and guiding the autopilot. Triton Edge also simplifies otherwise complex calibrations through AutoCal calibration routines.
Wifi and Ethernet connectivity give users the benefit of expanded integration options with the B&G Companion App, modules, and sensors, whilst web-based control allows for easy set-up and commissioning, as well as improved accuracy and calibration of sailing data.
justify
Latest Powerful microprocessor provides all core instrument calculations
Enhanced feature set for serious cruising yachts
B&G Companion App Integration – data recording and review integrated web server provides easy access to system configuration and control
Ethernet Interface
Industry-standard compatible NMEA2000® network
12/24V Power
Record all your sailing data to the cloud
Review your sailing data using the B&G Companion App
Backup, restore, and export sailing data
For further information you may contact the Official Distributor and Support Center for Greece:
Aegean Electronics SA
4 Zosimadon Str, Piraeus 185 31, Greece
Tel: +30 210 4123000