New Docking Display adds customer value
Raytheon Anschütz is introducing a new Docking Display for Synapsis Conning NX. This new feature allows navigators an overview of relevant ship data combined with a customizable chart window to ease the docking maneuver procedures.
Requested from customers, this feature supports operators with the additional comfort of having all necessary situational information available at a glance. It is also a significant contribution to safer operations combined with a lower risk of failure.
Situational awareness may further be improved by adding CCTV to the display (option).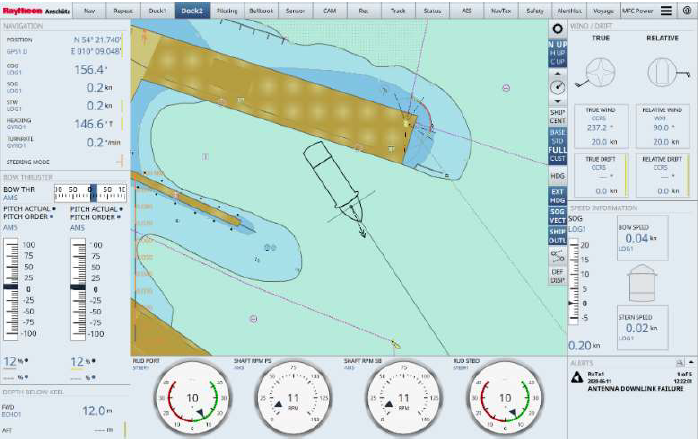 Important features of the Docking Display are:
The chart view widget is resizable in the service mode of the Synapsis Conning NX It is possible to insert multiple chart views that show the chart at different positions, at a different scale, using different chart details and with different own ship options.
It is possible to set the displayed chart details to STD/BASE/FULL/CUST. In case the "custom" detail level is chosen, the user can define which chart objects are visible (predefined custom settings). The predefined custom settings are saved separately for each instance of the Chart Widget.
It is possible to show the active route on the chart. The display of the route includes the waypoints, waypoint labels, path, and radius between the waypoints and the graphical XTD limits.
A ship centered mode is provided. An optional, percentual off-center distance can be applied. A free movement mode is provided which allows the operator to move the chart in the window in the same way as in Synapsis ECDIS NX. It is possible to toggle between ship centered mode and free movement mode and to switch the chart orientation between N UP / H UP / C UP.
Sensible default settings for docking can be set using only one button (default display).
The usage and the performance of the chart display are comparable to chart display in Synapsis ECDIS NX.
The Synapsis Conning NX makes all bridge navigation and machinery status data easily available at a glance. The combination of different instruments and indications at a central display increases situational awareness, even in critical situations. It also acts as the central HMI for INS functions such as sensor management, intelligent central alert monitoring, and system health monitoring. Besides the standard pages, it allows an optional creation of individual display pages and even the implementation of additional functionality, such as the ability to control and actuate external hardware interfaces.
The Docking Display is available as a new, optional add-on feature for Raytheon Anschütz Synapsis Conning NX systems from the Synapsis E04.05 software version onwards.
For further information you may contact the Official Distributor and Support Center for Greece:
Aegean Electronics SA
4 Zosimadon Str, Piraeus 185 31, Greece
Tel: +30 210 4123000