New ECDIS NX Compact to be released Jan.2021
The Raytheon Anschütz ECDIS NX Compact is a preconfigured system of a 24-inch panel-pc and the ECDIS NX Software that will make installation and operation easier and safer than ever before. It offers "plug and play" installation and supports navigators with unsurpassed user-friendliness and easy handling at a competitive price.
The ECDIS NX Compact panel-pc comprises of a 24-inch HD resolution display with multi-touch (including zoom), i7 Quad-Core processor, 8GB RAM, and 240GB SSD. The system operates from 115VAC/60Hz or 230VAC/50Hz primary power input and 24VDC secondary power input, eliminating the need for UPS. There are available interfaces for 2X LAN (10/100/1000Mbps Ethernet) plus 8X IEC 61162-1 (RS-422/RS485 NMEA 0183).
The ECDIS NX Software stands out with a modern, state-of-the-art human-machine-interface (HMI) and was designed from scratch under continuous user participation. As the world's first user-defined ECDIS, it explicitly considers the human element with a clearly structured interface and offers intuitive workflows in use and function such as touch or drag and drop. A maximized chart display contributes to better situation awareness. By making all mandatory functions available at a single touch or through wizard-guided workflows, ECDIS NX effectively simplifies the daily tasks and use cases of navigators.
With a software installation wizard and selectable standard configurations for newbuilding and retrofit installations, the Windows 10 IoT Enterprise operating system and the ECDIS NX Software install semi-automatically, requiring the ship-specific parameter input only. Customers receive this new ECDIS in a single package and for the first time with "plug and play", reducing the entire installation time to even less than one hour.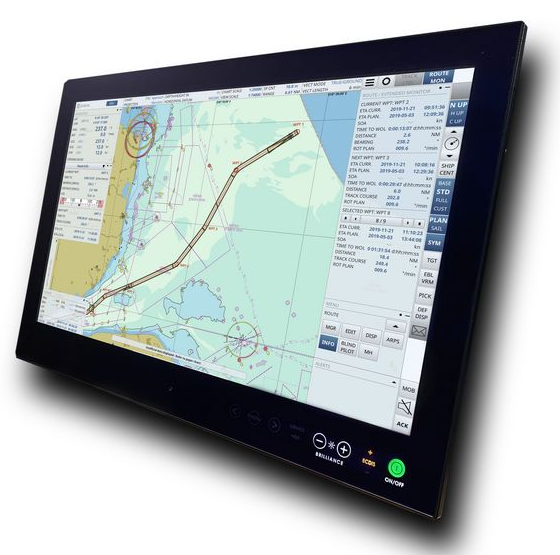 Key Benefits
Easy familiarization for crews
ECDIS NX Compact is easy and safe to operate thanks to a modern, clear structured UI with any mandatory function available on a single click.
Multi-touch and intuitive interaction patterns like point-to-chart, drag and drop, or retractable panels
Wizard guided workflows for standard use cases, e.g., for route planning
Embedded online user manual and free online type-specific ECDIS training
Secure & futureproof investment
ECDIS NX Compact is future-proof with a growing scope of modular features and ongoing compliance with ECDIS standards.
Future-proof hardware and operating system
Ongoing software compliance (e.g., new ECDIS test standards, such as S-100)
Growing scope of modular features, easy to update
Global service network in case you need help
Simplified installation
ECDIS NX Compact reduces cost and efforts and ensures reliability right from the start.
"Plug & play": total installation time is about one hour
Software installation and update is done via USB, supported through Wizard
Four standard configurations prepared and selectable during installation
Hardware installation and cabling follows standard procedures
Main features
Better situational awareness, less workload, ongoing compliance.
Smart tools for voyage management, such as Wizard based route planning
ETA calculation and speed of advance (SOA) for individual waypoints in UTC or local time
Graphical editing of routes supported through intuitive interaction patterns (e.g. drag n drop)
Editable look ahead zones for anticollision, route monitoring and anti-grounding
Filtering tools to reduce unnecessary alarms
Support of Admiralty Information Overlay (AIO)
Optional features
Radar video overlay
Emission control areas (geo object events)
Additional charts: ARCS, BSB, DNC
Type approvals & Standards
Type approved acc. to IEC 61174 Ed. 4.0 and IHO Presentation Library S-52 Annex A Edition 4.0 incl. DNV GL certificates
Compliant for paperless navigation
Type approved as Track Control System acc. to IEC 62065 Ed. 2 with Anschütz NP5400 / NP5500 autopilots
Central chart and route management
The Raytheon Anschütz ECDIS NX Compact can be used for installations aboard new buildings and/or in any retrofit. It is also an easy drop-in replacement for existing installations of the legacy ECDIS24, in which case the Magicplex (Serial to Ethernet Converter) can still be used and easily connected via LAN to the new panel-pc. For paperless navigation and type-approved track control with Anschütz autopilots, a dual system of ECDIS NX Compact is also available.
For further information you may contact the Official Distributor and Support Center for Greece:
Aegean Electronics SA
4 Zosimadon Str, Piraeus 185 31, Greece
Tel: +30 210 4123000