On track with autonomous ships.
Raytheon Anschütz, a business of Raytheon Technologies, realized the prototype of an autonomous ship in March 2022 together with CMN Naval and SeaMachines Robotics. From a trade fair booth, the partners successfully controlled the 32-meter-long autonomous high-speed interceptor UHSI32 remotely. In the successful prototype demonstration, a swift patrol boat races across the Atlantic waves, the onboard camera images shaking as the ship's hull plunges through the water. The radar shows razor-sharp images and the ship follows its course precisely. Then, in an instant, the presenter interrupts the scenario and steers the ship onto a new course. Camera and radar images follow as the scenario revolves around the viewers.
Automation and autonomous ships are no longer just buzzwords or trends promising increased safety and efficiency, reduced transport costs, and improved transport chains at sea. They now reflect the change to flexible crewed-uncrewed teaming operations taking place in the entire shipping industry, in interaction with other major trends like e-navigation, connectivity, cloud services, smart port and smart ship, and green shipping.
Raytheon Anschütz provided the onboard integrated navigation system (INS) and the command and control mission system, sensors, and cameras, as well as the data links and the shore-based workstation for navigation, situation awareness, and mission control. The shore-based workstation analyzes data and targets received through the data links and then compiles a situational picture in real-time. The radar and electronic chart display and information system (ECDIS) applications allow remote navigation of the UHSI32, while the command and control application enables mission-related tasks and control of the UHSI32 sensors and actuators.
"The joint demonstration represents the current state of the art in autonomous navigation and missions of professional, sea-going ships," said Daniel Sommerstedt, system engineer for autonomous navigation systems at Raytheon Anschütz. "We have the know-how and the skills to adapt and expand new and existing products for autonomous use cases."
Raytheon Anschütz uses Synapsis NX as the basis for the journey towards autonomous navigation. Synapsis NX features a bridge integration platform (BIP) that serves as the common, consistent reference system for professional bridge systems. It integrates data from multiple sensors and systems, monitors system functions, and provides central management of data, targets, and alarms. Sensor agnostic, the BIP simplifies adding sensors to the system, and it uses actuators or effectors to perform mission-related tasks in combination with the SYNTACS command and control application.
While less integrated workstations often only provide a single function and operate with inconsistent data and alarms, users can centrally interact with the harmonized overall system of Synapsis NX. Additionally, the uniform and intuitive user interface of the applications, both on the bridge and at the shore, make operations easier and safer while reducing training requirements.
The next step is to load Synapsis NX with artificial intelligence-based assistance functions that further automate navigational tasks, such as collision avoidance on board future ships, support shore-based operators in monitoring, and, if required, control ships remotely.
"We use our experience in navigation and tactical situation awareness, as well as our expertise in systems integration, user interfaces, and regulations, to upgrade an approved, professional system like Synapsis NX for use with autonomous ships," said Sommerstedt.
Technologically, the other systems and capabilities on board will further expand. For example, light detection and ranging sensors can be used and fused with images from camera systems or radars, for example, to provide new information. The automatic detection and classification of objects will continue to develop, as will algorithms for prediction and collision avoidance, or route exchange through new technologies such as VHF data exchange services. Communications between ships and shore stations will be further developed with the aim of achieving the lowest latencies possible.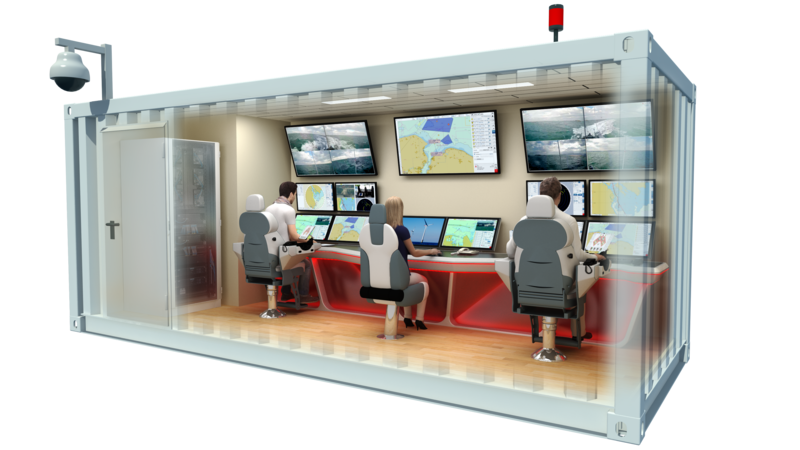 "Having an idea of what is technologically possible is one thing, but we've asked ourselves, where, in which mission do we really see autonomous ships," said Sommerstedt. "We believe that coastal ferries or use in coastal protection are applications that could benefit first from semi-autonomous or autonomous solutions."
Raytheon Anschütz developed an application scenario, which includes autonomous ships monitored and, if required, remotely controlled from a control center at the shore or on a mother ship. Both permanent command centers and mobile container solutions are possible.
In the shore control center, large displays show the ship's surroundings with 360° camera videos with the most important navigational data shown in real-time. On-shore navigators communicate with other ships from their workstations and monitor autonomous ships using videos and navigation data. They can also monitor and control position, course, and traffic via radar and ECDIS applications, take on navigational tasks and remotely control a ship's speed and course. With type-approved track control systems, a certified and proven system used for many years, this is ideally suited for autonomous shipping. Future assistance systems will further enhance these applications.
In addition to navigation, coastal protection missions of individual ships and fleet formations can be planned and executed by shore control center personnel. From existing data, SYNTACS can compile and present a common situational picture and provide a stack of features that support tactical mission planning and maneuvering. The mission planning is aligned with the navigational route planning task done in ECDIS and, from there, can be used to command the ship. Users can directly control onboard mission systems, sensors, and effectors from the shore control center.
"Our approach to autonomous solutions must offer at least the same level of security and safety at sea as today's systems," said Sommerstedt. "We aim to deliver real benefits. How can we help reduce the need for increasing personnel or the cost of training? How can we automate high-risk missions at sea? How can we help extend the operating times of ships? We are currently researching questions like these together with our customers and partners."
Raytheon Anschütz has been researching automation and assistance systems for ships as well as technologies and requirements for autonomous driving in various research projects, such as MTCAS and Galileo Nautic 2. A current major initiative, the research project CAPTN, has the vision to deploy autonomous, low-emission passenger ferries on the Kiel Fjord. In this project, Raytheon Anschütz provides navigation systems for the new research catamaran, as well as monitoring, navigation, and control systems for the shore control center.
For further information you may contact the Official Distributor and Support Center for Greece:
Aegean Electronics SA
4 Zosimadon Str, Piraeus 185 31, Greece
Tel: +30 210 4123000