Raytheon Anschütz launches fuel-saving autopilot
Raytheon Anschütz, a business of Raytheon Technologies, recently launched NautoPilot 5000NX, a new autopilot for ships. Our latest advanced autopilot combines unique algorithms for precise steering performance with a wide range of fuel-saving features.
NautoPilot 5000NX clearly displays all navigational information on a 7-inch graphical touchscreen. Crews can rely on the new autopilot's intuitive operation that places heading, course, and track control steering modes at their fingertips.
"Years of experience in the field has shown that autopilots can also help save significantly on fuel," said Olav Denker, product manager for autopilots and steering control systems at Anschütz.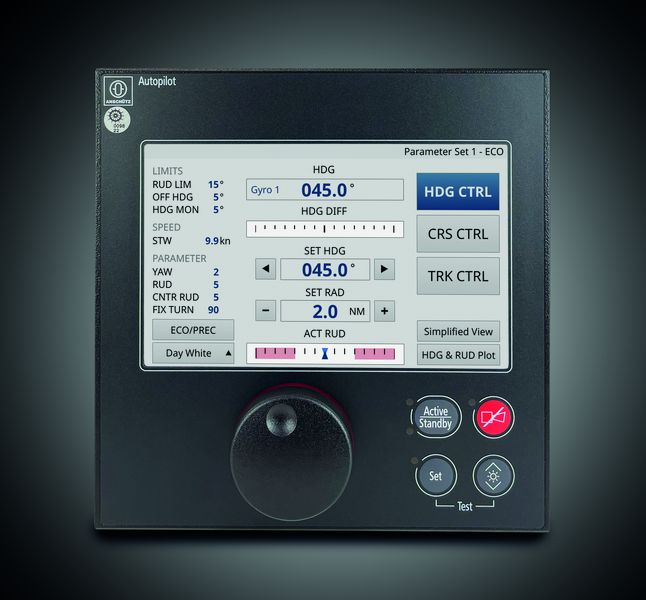 "We designed numerous features for our NautoPilot 5000NX that help reduce fuel consumption alone or in combination."
Speed, rudder movements, weather conditions, and the characteristics of the ship can all affect performance. NautoPilot 5000NX's fuel-saving features include:
Heading and Rudder Plot provides an instant overview of steering performance and simplifies the adjustment of autopilot settings for minimal rudder activity.
Course Control mode steers the vessel on a course-over-ground line and automatically compensates for drift deviations. The traveled distance is minimized, and smaller rudder angles lead to less loss of speed compared to manual operation.
Economy Mode offers permanent fuel savings by reducing rudder activity with the push of a button. The autopilot permanently monitors the actual yawing movements of the vessel, depending on load and sea conditions. Symmetrical movements, as well as movements that cannot be corrected due to the inertial behavior of the ship, are filtered out and not corrected by the autopilot.
The Toe Angle function reduces fuel usage for vessels with dual rudders by optimizing steering characteristics via offsetting the rudders from each other.
In addition to its fuel-saving features, NautoPilot 5000NX offers significant improvements compared to its predecessors. Built on new standardized hardware, it offers a modern user interface and supports Ethernet communication that meets IEC 61162-450 standards.
For further information you may contact the Official Distributor and Support Center for Greece:
Aegean Electronics SA
4 Zosimadon Str, Piraeus 185 31, Greece
Tel: +30 210 4123000