ShipModul released v.3.13.0 for MiniPlex-3
ShipModul, a Dutch marine electronics manufacturer announced that a new firmware, V3.13.0, is released for the MiniPlex-3 Series, together with a matching MPXConfig3 V3.9.1. It should be noted that this latest MPXConfig3 is only available for Windows and not yet for macOS (a firmware downgrade is required for this). Moreover, the corresponding products' manuals have also been updated. The new firmware update provides the following code changes and bug fixes:
Code Changes
DC/Battery PGN,s: Conversion of PGN's 127506 (DC – Detailed Status) and 127508 (Battery Status) into XDR sentences implemented.
Maximum NMEA 0183 Sentence Length: The maximum sentence length is now limited to the NMEA 0183 standard of 82 characters to save memory for new features. Only NMEA Input 4 (Input 8 on the MiniPlex-3PRO) supports sentences up to 145 characters.
TAG Blocks: When MPXConfig3 is connected to a MiniPlex-3, it will enable TAG blocks for the duration of the connection. These TAG blocks now contain a relative time parameter for diagnostic purposes.
Conversion of Navigation Data from Multiple NMEA 2000 Sources: When the MiniPlex receives navigation data (PGN's 129283, 129284, and 129285) from multiple sources, all parameters will be assembled randomly in the resulting NMEA sentences APB, BWC/BWR, RMB, and XTE. Such a situation occurs when multiple navigation stations are synchronized for redundancy. To prevent this, a priority is applied to the NMEA 2000 Source Address (SA), resulting in only one source being converted to NMEA 0183. A lower SA has a higher priority. If sources have a non-zero Device Instance (DI), then their DI is used for prioritizing the sources. Since the DI of a device can be changed, navigation sources can be prioritized by the user.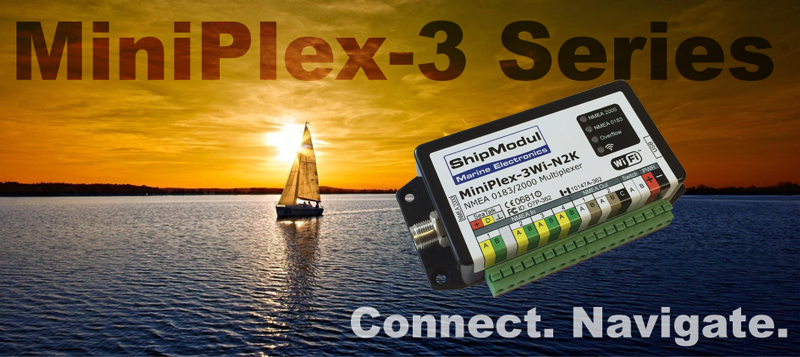 Bug Fixes
Engine XDR Sentences: Bug fixes in XDR sentences for engine parameters:
Engine oil temperature was 10x too low.
Engine oil and engine temperatures were incorrectly converted when below 0°C.
BWC/BWR Sentences to SeaTalk: BWC or BWR sentences would not be converted to SeaTalk if these were the only sentences received and present in the Routing Table. This is fixed.
ShipModul provides advanced solutions for the reliable communication of NMEA data between multiple talkers and listeners. They are offering several interfacing options (NMEA0183, N2K, USB, Ethernet, Wi-Fi …) and a rich set of features and configurations while eliminating ground loops. This makes the outputs compatible with all sorts of inputs, whether they are isolated or not, differential (RS-422) or grounded (RS-232). Any combination of networks using NMEA 0183, N2K, or SeaTalk data integrates seamlessly via the latest MiniPlex-3 Series NMEA multiplexers. They offer the ultimate solution to connect old and new worlds and the perfect gateway to computers and tablets onboard.
For further information you may contact the Official Distributor and Support Center for Greece:
Aegean Electronics SA
4 Zosimadon Str, Piraeus 185 31, Greece
Tel: +30 210 4123000
E-mail: info@aegeanel.com