ShipModul released firmware V3.16.2 for MiniPlex-3 Series
ShipModul, a Dutch marine electronics manufacturer, announced that a new firmware, V3.16.2 was released for the MiniPlex-3 Series. This would be used together with a matching MPXConfig3 V3.12.0. It should be noted that this latest MPXConfig3 is only available for Windows and not yet for macOS (a firmware downgrade is required for this). The new firmware update provides the following changes/new features and bug fixes:
Changes/New Features
This firmware contains an updated magnetic variation table for 2023.
Rotating Mast Angle & Wind Correction
The mast angle is calculated from a fixed primary heading sensor and a secondary sensor mounted on the rotating mast. This mast angle is then used to correct the wind angle from the sensor on top of the rotating mast.
Data Sources for this feature are on the Conversions tab. Primary and secondary heading sensors and a wind sensor on either one of the NMEA 0183 inputs or on the NMEA 2000 network can be selected.
The mast angle calculation is separate from the wind angle correction. Thus, the wind angle correction will also work when a mast rotation sensor is used which transmits the measured mast angle using an XDR sentence. The calculated mast angle is transmitted in an XDR sentence using Transducer ID "mast angle", which is also used by NKE systems. ShipModul proprietary PGN 65330 (Mast Angle) is also transmitted.
The Modbus poll interval can now be specified using a new parameter of the $PSMDMB,C,R,<x> sub-command. The value of x is defined as the poll interval in 10 ms increments.
Output NMEA V1.5 Option Extended
Older equipment supporting NMEA V1.5 and V2.2 may accept heading and course values with only one decimal digit. This firmware version strips all heading and course values in OSD, RSD, and TTM sentences to one decimal. All decimals from the time field in the TTM sentence are removed.
Magnetic Variation on SeaTalk
The MiniPlex is used to transmit magnetic variation only if it wasn't received from another SeaTalk source. This behavior has been changed: the MiniPlex will now always transmit magnetic variation on SeaTalk as long it is available from either a heading source, a GPS, or the internal variation table. Any existing SeaTalk source will then automatically stop transmitting magnetic variation.
Added an optional trigger field to the Sentence Rebuild definition to test the first parameter in the originating sentence. This allows the rebuilding of specific proprietary sentences that have a common address field such as $PFEC, GPatt and $PFEC, GPhve.
A revised description of the PSMDSR command (V3.16.0) is available.
Decoding XDR Sentences with "BARO"
Transducer ID "BARO" is added to read barometric pressure from an XDR sentence with any Talker ID.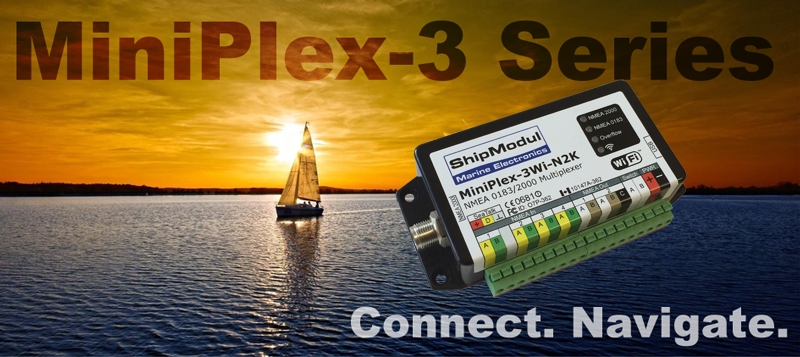 Bug Fixes
Fixed a bug in the Sentence Rebuilding feature that prevented non-standard NMEA sentences from being converted. The entry index is corrected from 1 to 3 instead of 0 to 2.
The Modbus XDR rate could be set to 0, which stopped everything. A check has been added to prevent this.
Magnetic Variation on SeaTalk
A bug is fixed, which prevented the internal variation from being used to correct the magnetic heading, GPS COG, and bearing to the waypoint received from SeaTalk.
If the internal variation table was used, the variation from the table was transmitted onto SeaTalk but the transmitted COG was still corrected using the variation from the originating RMC sentence.
(Note: heading and COG are always magnetic on the SeaTalk network.)
Fixed a bug that prevented $PSMDST sentences from reaching an output or host port.
Reading Barometric Pressure from XDR Sentences
Fixed a bug in reading barometric pressure from an XDR sentence: the value read was a factor of 10,000 too low.
When switching input modes, the sentence parser was not reset. Thus, when switching modes "in the middle" of a sentence, the parser still used the previously set conditions to look for the sentence end. The input would thus no longer work.
This is resolved by using a timeout on the reception of a sentence (which is in accordance with NMEA 0183!), to ensure the parser is always returning to an idle state.
If a sentence with an erroneous checksum was received on an input set to "NMEA (ERR)", an additional checksum was added. Also, when a correct sentence was received in this mode, the checksum was stripped and never added again.
ShipModul provides advanced solutions for the reliable communication of NMEA data between multiple talkers and listeners. They are offering several interfacing options (NMEA0183, N2K, USB, Ethernet, Wi-Fi …) a rich set of features and configurations while eliminating ground loops. This makes the outputs compatible with all sorts of inputs, whether they are isolated or not, differential (RS-422) or grounded (RS-232). Any combination of networks using NMEA 0183, N2K or SeaTalk data integrates seamlessly via the latest MiniPlex-3 Series NMEA multiplexers. They offer the ultimate solution to connect old and new worlds and the perfect gateway to computers and tablets onboard.
For further information, you may contact the Official Distributor and Support Center for Greece:
 Aegean Electronics SA
4 Zosimadon Str, Piraeus 185 31, Greece
Tel: +30 210 4123000
E-mail: info@aegeanel.com