Simrad® & C-MAP® are official partners of E1 Series
Simrad® and C-MAP® partnered with the E1 Series to become respectively the Official Marine Electronics Partner and the Official Cartography Partner of the world's first electric powerboat championship, scheduled to kick-off in early 2023. The announcement coincides with the E1 Series unveiling its first full-size model of the RaceBird hydrofoil powerboat at a presentation ceremony this week at the Yacht Club de Monaco in Monte Carlo, Monaco. Both brands will assist to support the development of onboard systems and RaceBird's cockpit for use in a future E1 Series powerboat racing championship.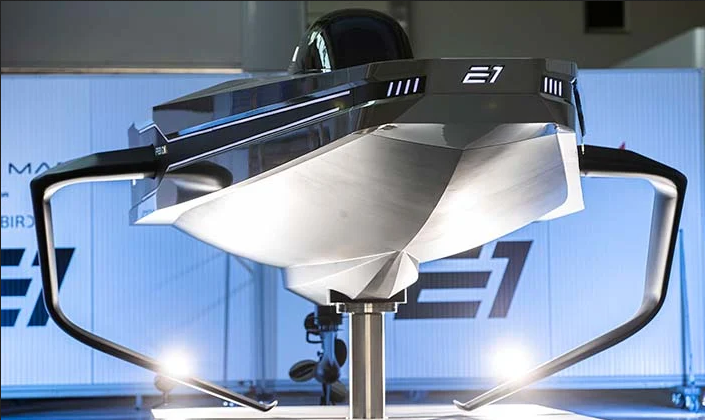 The E1 Series partnership is designed to create the world's first Union Internationale Motonautique (UIM) sanctioned electric powerboat racing championship, with the competition held close to shore in urban areas featuring the RaceBird, a hydrofoil-type boat now under development for use in the series. The RaceBird was designed by SeaBird Technologies and Victory Marine and features an electric outboard motor, enclosed safety canopy, and hydrofoil technology. The boats will be powered by a 35kWh battery from Kreisel and a Mercury Racing developed outboard motor with 150 kW peak power output, with a projected top speed of 58mph (93 km/h). Using innovative hydrofoil technology, the RaceBird powerboats will rise high above the water's surface, allowing for minimum drag and maximum energy efficiency. The boats will be manufactured by Victory Marine.
Simrad® technology will provide specialist navigation and marine electronics for the RaceBirds, the pilots, and support craft at race events. C-MAP® extensive database will provide high-resolution full-featured chart coverage. The Simrad® electronics combined with C-MAP® cartographic data will be integrated into the cockpits for teams and race management use enhancing navigation safety and situational awareness.
For further information you may contact the Official Distributor and Support Center for Greece:
Aegean Electronics SA
4 Zosimadon Str, Piraeus 185 31, Greece
Tel: +30 210 4123000
E-mail: info@aegeanel.com