Simrad EK80 v.2.0.1 is released
The new software version 2.0.1 which was recently released, adds value to all Simrad EK80 systems by introducing new functionality plus including some bug fixes. This is a 64-bit installation for Windows10 and it is recommended that all users update their software to this latest version. After the update is completed, it is recommended to perform new system calibrations.
Software versions for the transceivers are included with this EK80 release:
Wide Band Transceiver (WBT) Software version: 2.54
WBT Tube Software version: 1.01
WBT Mini Software version: 1.01
General Purpose Transceiver (GPT) Software version: 070413
Software version for ADCP transceiver/transducer in this release:
EC150–3 Software version: 2.45
EC150 fixed timetagging with Aux remote synchronization. Users may contact their local support for upgrading from versions prior to 2.43
Some new functionalities are:
Support for new languages. This release features a user interface, on-line help, and EK80 Reference manual in Spanish, Korean and Simplified Chinese.
Remote control and data subscription changes. The introduction of mission planner functionality required the channel names to be extended. This is in order to distinguish more clearly between channels.
Keeping your user settings. A new procedure has been introduced in order to save your user settings. Using the simple steps in the procedure, you can always get back to your favorite user settings.
Furthermore, the following specific improvements have been made:
Extended signatures of installation software. When installing EK80 in domain computers, the signature requirements depend on the domain settings. To comply with the strict signature settings, EK80 has now extended the signatures in the installation files.
Find and display missing echogram views. If the echogram view for some reason does not appear in the display as expected, it is possible to reset the layout of the presentation.
The following specific bug fixes have been made:
Calculation of Backscatter values (Sv) now takes transducer installation depth into consideration.
Transducer impedance warning has been turned off by default because it might trigger an alarm unnecessarily. Please contact the support team if you would like to re-enable this functionality.
Power/Angle sample bug-fix.
Transducer along and athwart properties swapped bug.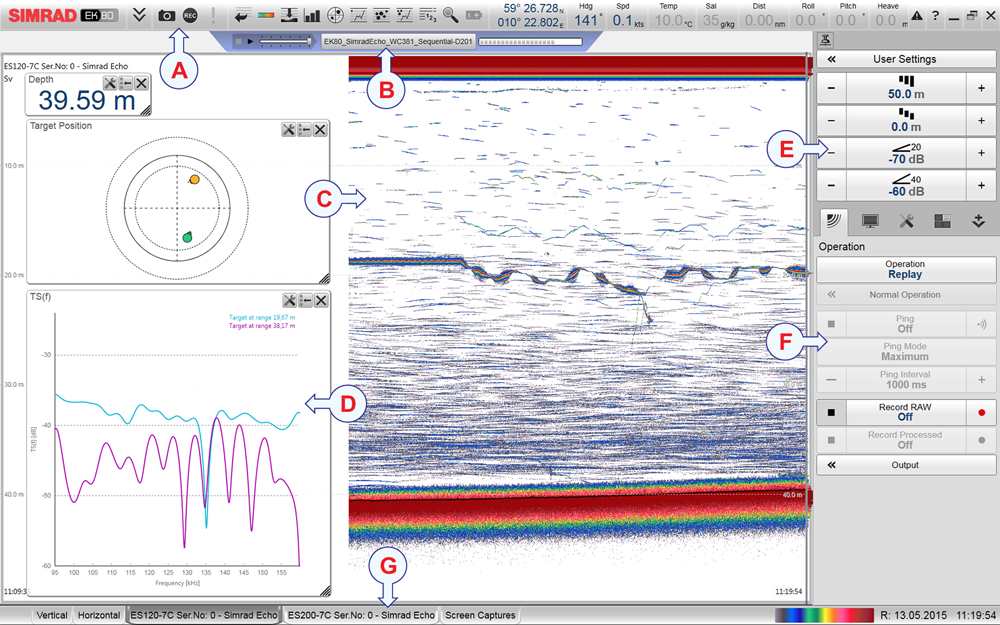 The reference manual for this release is included on the EK80 software media (USB flash drive) and as context sensitive on-line help. Raw file format descriptions can be found in the Interface manual, a new manual part of the end-user documentation.
The Simrad EK80 is a high-precision scientific echo sounder and ADCP system designed to quantify and monitor underwater ecosystems. The Simrad EK80 is a modular system capable of operating several different transceiver and transducer combinations, all through the same operator station.
Based on more than 60 years of research and development in close collaboration with leading marine scientists this wide band echo sounder system has succeeded the famous EK60, which became an international standard for fish stock assessment. The Simrad EK80 is now a wideband system with an operational range from 10 kHz to 500 kHz. Its extreme range resolution and improved target characterization allow for a wide range of oceanographic applications.
The system operates with single and/or split beam transducers and provides you with a dedicated built-in application for calibration. A wide selection of high-quality accurate surface- and depth transceivers and transducers are available for a flexible system, capable of integration on sensor platforms from small to large. Several transceivers are well suited for permanent installation onboard a research vessel but still compact and a natural choice for portable use.
Real-time echo integration and target strength analysis in an unlimited number of layers is provided as well as storage of raw data for replay or analysis in one of several post-processing software packages. Several post-processing alternatives are available for rapid survey analysis and reporting.
For further information you may contact the Official Distributor and Support Center for Greece:
Aegean Electronics SA
4 Zosimadon Str, Piraeus 185 31, Greece
Tel: +30 210 4123000
E-mail: info@aegeanel.com