Simrad released s.v.21.13.21 for sonars
A new software (v.21.13.21) for the latest Processor Unit of Simrad Sonars has been released. The updated Processor Unit software is controlling all functionality, Tx/Rx, interfacing with external peripherals and sensors, plus offering a modernized and simplified user interface. Furthermore, a lot of new functions are introduced for the low-frequency omni sonars (SX, SU, ST-series) and the SN90 matrix sonar. The following specific changes have been made with this latest update:
RCG settings are named, i.e.: "Weak", "Medium", "Strong", "Scattered", "Experimental", etc.
FM transmission bandwidth is adjustable.
Inspection Beam with Size Distribution, Fish Position, Biomass, and fish size adjustment. Note that high tilt values of this beam are required (and are recommended) for improved accuracy of calculations.
Improved tracking functionality.
Hull unit error handling messages have been implemented.
Automatic system self-protection with adjustable values for purse time, bottom depth, and vessel speed.
Output dialog box has been set up as in ES80.
Raw data recording.
Marker and tracking outputs in MDS and TPP datagram formats.
Scientific output on NetCDF format with a dedicated software license.
External markers input via TLL datagrams or via proprietary datagrams from Serpe and Ryokusei buoys.
Video recording including menus, dialog boxes, and cursor movements.
In user settings the current settings for range, bearing and tilt can also be saved.
The Sonar Operating Panel offers a choice between presentation modes or user settings.
Dead Reckoning has been implemented, with the use of a Current Indicator.
Roll/Pitch offsets of an external MRU improve accuracy.
A dual Timer for purse seine operations has been added.
Maps in Horizontal view, using K-Bridge WMS.
Auto bearing with adjustable step size and search sector.
Reduced Tx Sector for Vertical transmissions improves AGC operation and school detection close to the surface.
Course line has been added in Horizontal view.
Operation with various control options (Mk3 Operating Panel, mouse, etc.)
End-user manuals can be downloaded and read on Android and iOS smartphones and pads.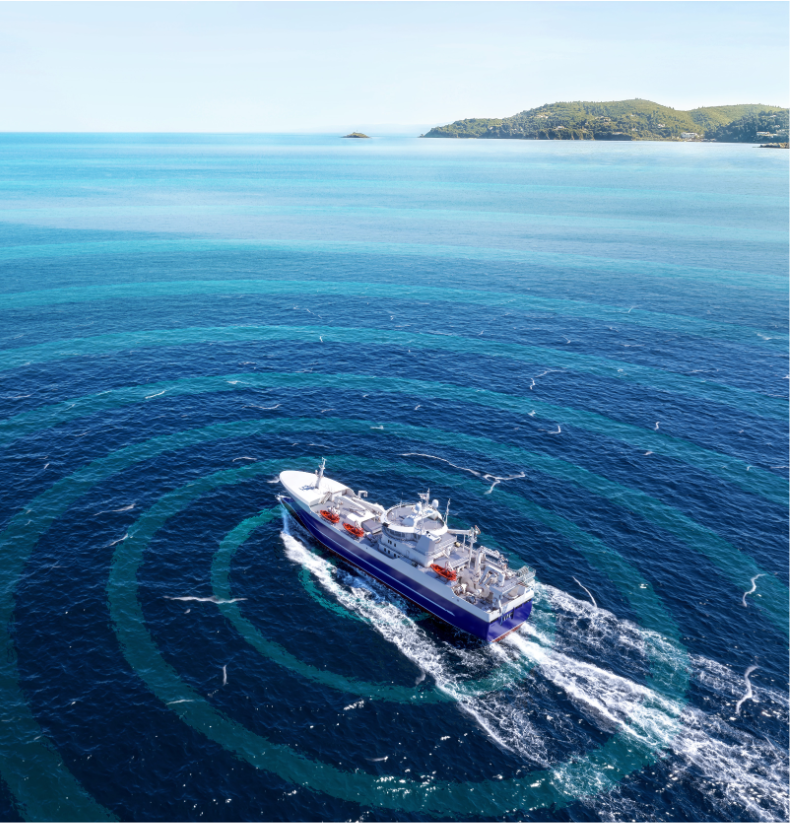 End-user manuals have been updated corresponding to this latest software release. All sonar Processor Units updated to this latest software include the corresponding Reference Manual of each system, accessible as context-sensitive online help.
It should be noted that a firmware update for the Transceiver Unit is not included with this new software release. However, all the above changes improve performance. So, it is recommended that all Simrad omni sonar users update their software to this latest version.
Simrad sonars offer short- and long-range performance optimized for fishery and underwater scientific applications by using advanced wideband transducer design combined with digital transmitting and receiving technology. A frequency modulated signal with special filters enhances fish detection and definition under difficult conditions. The narrow beam opening angles combined with high source levels extend the detection range while keeping the resolution high.
For further information you may contact the Official Distributor and Support Center for Greece:
Aegean Electronics SA
4 Zosimadon Str, Piraeus 185 31, Greece
Tel: +30 210 4123000
E-mail: info@aegeanel.com