Simrad released s.v.23.2 for SY50 sonars
A new software (v.23.2) for the latest Processor Unit of Simrad SY50 sonars has been released. The updated Processor Unit software is controlling all functionality, Tx/Rx, interfacing with external peripherals and sensors, plus offering a modernized and simplified user interface. Furthermore, a lot of new functions are introduced for the SY50 omni sonars. The following specific changes have been made with this latest update:
New features for Operating Panel Mk3
To activate the hoist or lower, you must press the button and keep it depressed for three seconds.
Press the Tilt button on the operating panel, and keep it depressed for increased tilt values.
On the Operating Panel page in the Installation dialog box, select Computer audio enabled for transducer movements to use the audio output on your Processor Unit.
"Noise Filter" replaced by "Target Threshold"
The functionality has not changed. Fine-tuning is normally required. The default setting is 10. Experience from beta-testing on fishing vessels has shown that threshold settings between 10 and 20 are best.
New presentation modes added
The following new presentation modes are added:
Inspection 3
Dual Vertical
Dual Vertical North Up
Horizontal/Vertical Inspection
New color palettes added
The following new palettes have been added:
Day Blue (increases contrast)
Bright Day (increases contrast)
Day Grey (adds a grey background)
Fishing Gear Setup now includes single and dual trawls
You can set this up in the Installation dialog box.
If you have a supported catch monitoring system (TV80) information from the sensors is used.
Target data can be exported
The positioning data from your selected target(s) can be exported on an NMEA TLL datagram using the Marker Output page in the Output dialog box. This allows you to send target information from one sonar to another.
Increased audio functionality
Audio has been added. You can select from where to obtain the audio information; chosen beam, sector, or omni.
Coverage Plot in vertical views
The Coverage Plot function on the Cosmetics menu now shows you the vertical coverage in the horizontal views, and vice versa. The information is updated when you change the operating frequency and other related parameters.
Course Line
This is a new function on the Visual Objects menu.
'Course' is added as a separate setting on the Sensor Configuration page
The heading information will always be used, but if the information is missing, the course is used. The information on the top bar will change from "HDG" to "COG" to indicate this.
Environment dialog box improved
The Environment dialog box has been improved to provide more information.
New hull unit for SY50
The software has been prepared to work with the new SY55 Hull Unit. This hull unit is not yet available.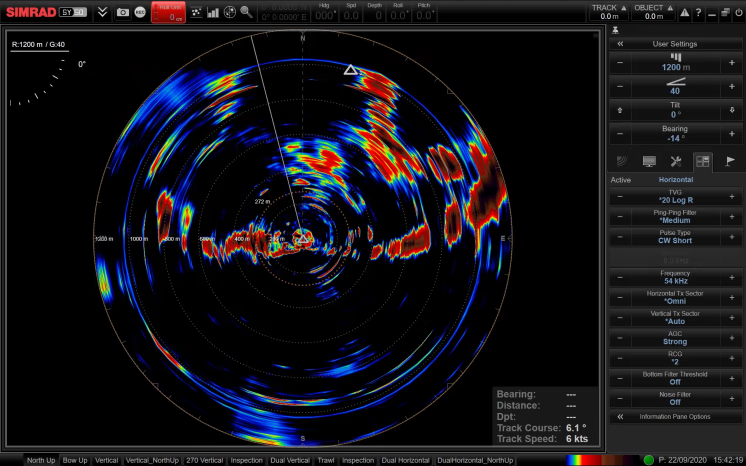 This software update introduces new functionality. It also addresses software bugs that have been reported by our users, or detected during our own product testing. We recommend that all users update their software.
The end-user documentation and online help for the SY50 system are not updated with the latest software release. The SY50 Reference Manual is included with the SY50 software as context-sensitive online help.
Simrad sonars offer short- and long-range performance optimized for fishery and underwater scientific applications by using advanced wide-band transducer design combined with digital transmitting and receiving technology. A frequency-modulated signal with special filters enhances fish detection and definition under difficult conditions. The narrow beam opening angles combined with high source levels extend the detection range while keeping resolution high.
For further information, you may contact the Official Distributor and Support Center for Greece:
Aegean Electronics SA
4 Zosimadon Str, Piraeus 185 31, Greece
Tel: +30 210 4123000
E-mail: info@aegeanel.com