Simrad RS40-B is the first VHF/AIS transceiver
The new Simrad RS40-B is the first VHF/DSC radio integrating an AIS transceiver, a built-in GPS receiver plus optional wireless handsets, external speaker, and loudhailer. The unique combination of all this range of operations in a single unit allows users of smaller vessels, with limited installation space, to enjoy the increased safety on the water of all these combined functionalities. While its extensive connection capabilities allow the RS40-B to be part of more expanded systems onboard larger vessels.
VHF/DSC radio
The RS40-B is a Class-D VHF/DSC radio complying with the requirements of Directive 2014/53EU (RED). It has a waterproof (IPx7) case with a large backlighted LCD display and can be either bracket or flush mount. Featuring a full range of operational modes and functions the RS40-B allows for clear and safe voice and DSC communications across all VHF channels.
See and Be Seen with Integrated AIS
The RS40-B includes a Class B AIS transceiver, which not only receives AIS targets but also transmits a boat's position to nearby AIS-equipped vessels. This helps other mariners to spot the transmitting boat through any conditions, day or night. The built-in AIS receiver monitors the position of other AIS-equipped vessels, helping users to proactively avoid collisions in crowded harbours and waterways. AIS information is a very useful aid-to-navigation and can be viewed on the radio's built-in screen, or overlaid on the chart or radar screen of a compatible multifunction display.
Built-in GPS receiver
The RS40-B includes a built-in GPS receiver that can use either the built-in GPS antenna, simplifying installations on open bridge vessels, or an optional passive external GPS antenna (e.g. Simrad GPS-500). Operating within more expanded systems, all data can be output to a vessel's network through NMEA0183 or NMEA2000 connections.
Removable Fist-Mike
The RS40-B's removable fist-mike can be connected to the front or rear of the radio, and optional extension cables allow the fist-mike and radio to be mounted separately. This offers a simple and cost-effective solution for any mounting location, with no cable clutter. For example, the RS40-B can be mounted overhead, with no hanging cables, while the fist-mike is connected to an extension socket on the dash below.
Expandable with Wireless Handsets
Adding an optional HS40 wireless handset allows radio functionality anywhere onboard. Each handset duplicates the radio's display and controls, enabling remote access to all key functions. For even more expanded installations up to two wireless handsets can be connected to a single radio. With multiple handsets connected the RS40-B doubles as an on-board Intercom.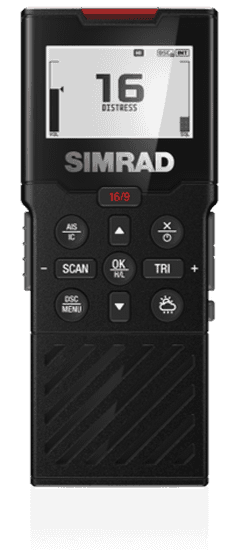 Expandable with Speaker and Loudhailer
The high-powered audio output plus an optional external speaker (minimum 4W) allows for higher audio volumes to overcome cockpit noise on open boats. While adding an optional hailer speaker (minimum 30W) allows Fog-Horn and Loudhailer functions.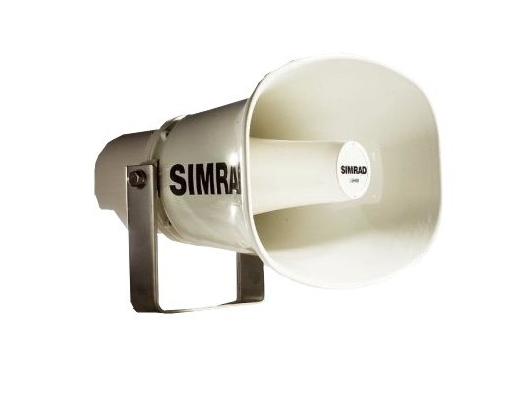 Key features' summary
Approved Class-D VHF/DSC radio
Integrated Class-B AIS transceiver
Integrated GPS receiver and built-in GPS antenna
Wired front or rear fist-mike connection
NMEA0183 & NMEA2000 connectivity
Optional external passive GPS antenna
Optional wireless handset connection (max 2)
Optional external speaker and loudhailer
NOTE:
VHF radio functionality requires a VHF antenna and AIS functionality requires a second antenna. Alternatively, a VHF/AIS antenna splitter (e.g. Simrad NSPL-500) may be used for single antenna installations. Moreover, all DSC functions require an MMSI number issued by local authorities and programmed into the unit.
For further information you may contact the Official Distributor and Support Center for Greece:
Aegean Electronics SA
4 Zosimadon Str, Piraeus 185 31, Greece
Tel: +30 210 4123000