New Sailor 7222 VHF DSC Class-A introduced
The new SAILOR 7222 VHF DSC Class-A was announced as a successor to the highly regarded and extremely dependable SAILOR 6222 VHF DSC Class-A. The new SAILOR 7222 VHF DSC Class-A contributes to safe and effective marine operations on diverse SOLAS vessels with user-friendly operation, powerful features, and unmatched resilience in even the toughest conditions.
Developed as a robust platform for when clear communication could make the difference between a non-event or a major incident, the SAILOR 7222 VHF DSC Class-A complies with the forthcoming standards implemented by Bridge Alert Management IMO resolution MSC.302(87) (August 2021 introduction), as well as IEC 62923-1 & IEC 62923-2.
Building on the established decades-long technology leadership of SAILOR VHF DSC radios before it, SAILOR 7222 VHF DSC Class-A features updated hardware and software which unlocks even more reliability. It also has an innovative new user-friendly 5.5" TFT touch-screen interface, which further streamlines workflows and optimizes operational safety and efficiency.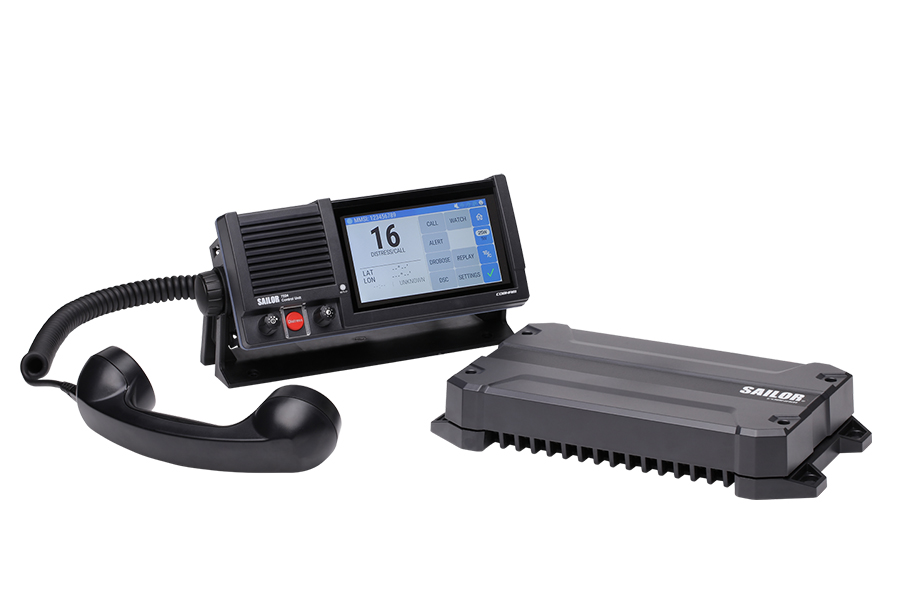 Some of the best features of the new Sailor 7222 are:
Unique touch-screen interface

Fast and responsive
Intuitive and easy to operate menu structure
4 different color themes for individual setup
Additional large, tactile buttons for specific features

Famous SAILOR Replay feature – Now extended to 480 seconds for fast and easy message verification
Handset design

Rugged and durable
Based on the legacy SAILOR handset
Quality feel in the hand

Earpiece covers ear and reduces noise
Built-in high-quality 6W loudspeaker
All Channel tables in one unit
Flexible installation for multiple users/locations
Up to 4 SAILOR 6204 Control Speaker Microphones can be connected
Up to 2 SAILOR 6201 Handsets can be connected
Straightforward LAN based Service interface: LAN port connected
Bridge Alert Management (BAM) compliant
A new SAILOR 7222 VHF DSC Class-A standard delivery will comprise of:
SAILOR 7224 VHF DSC Control Unit
Control Unit
DC Power Cable (2,5 m)
Cable-relief Kit
Installation Guide
SAILOR 6201 Handset
SAILOR 7226 VHF Transceiver Unit
VHF Transceiver Unit
Screw Kit
Installation Guide
Deliveries of the first SAILOR 7222 VHF DSC Class-A MED-B "Wheelmarked" units will be ready by the end of August.
For further information on Maritime VSAT, Radio, Safety, and Tracking products and systems from Cobham SAILOR you may contact the Official Certified Partner for Greece:
Aegean Electronics SA
4 Zosimadon Str, Piraeus 185 31, Greece
Tel: +30 210 4123000
E-mail: info@aegeanel.com