New software release and functionality for Simrad R3016
Simrad Professional, a leader in marine electronics for professional vessels, announced the release of software version 18.3.2 for the Simrad R3016 Professional Radar system. This release allows the user to retain the user maps configuration after a power cycle of R3016.
User maps are geographical navigation tools that are drawn on the radar image to provide a definition of a channel, or restricted or dangerous area. Once drawn, they can be saved in the radar memory for selection at another time. The maps dialogue is selected from the PPI symbols menu. Here users can select and deselect the maps. It is important to select "save" after selecting or deselecting the maps. Up to 32 operator complied maps can be created/saved in the system, each with up to 120 lines and 32 symbols in multiple colors. The on-display presentation reference for these maps can be either relative (requires SDME & Gyro) or geographic (requires EFPS & Gyro).
In conjunction with this latest software release, there is now available a User Map Editor program, which allows users to create and modify user maps from a PC. The maps can then be imported into the radar via a USB memory stick or SD card.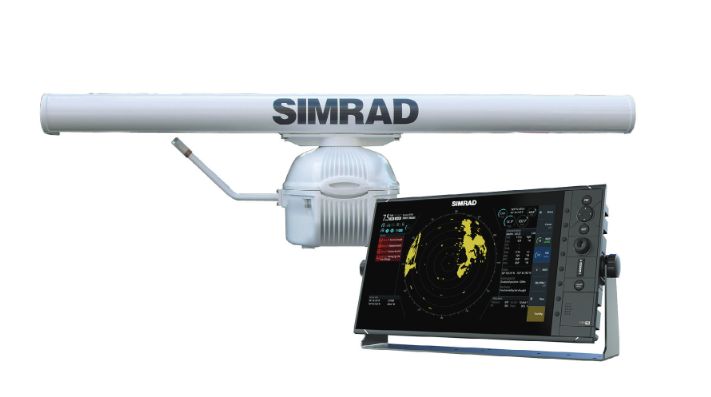 The Simrad R3016 is a dedicated control unit for Simrad radar systems and features an integrated 16-inch widescreen display. It can be combined with various Halo (Pulse Compression) or High Definition (X-band Magnetron) scanners and arrays to create an ideal safety and navigation system for all types of professional vessels up to SOLAS CAT3 (less than 500GT). The Simrad R3016 offers versatile flush or bracket-mount installation options and intuitive keypad-based operation for reliable control in all conditions. To be able to provide consistent data, the R3016 is designed to be integrated using serial interfaces with other electronic equipment normally present in a vessel bridge:
Gyro-compass or transmitting heading device (HDG)
Speed and Distance Measuring Equipment (SDME)
Electronic Position Fixing System (EPFS)
Automatic Identification System (AIS)
Bridge Alert Management system (BAM)
For further information you may contact the Official Distributor and Support Center for Greece:
Aegean Electronics SA
4 Zosimadon Str, Piraeus 185 31, Greece
Tel: +30 210 4123000