OLEX 11.5
Norwegian based OLEX AS, the manufacturer of complete systems for navigation, plotting and 3D seafloor mapping, is pleased to announce that OLEX 11.5 is now released and available as a free download or through your local Olex dealer for an upgrade of your system.
This latest series of software upgrades includes a lot of new and advanced tasks, and as always there will be more to come. Some of these new tasks allow improved ATEC multi beam operation as well as AIS target data handling. Moreover enhanced vector chart presentation, system ergonomics and upgraded support of Scientific Linux are also included. A more detailed list of these new features available in OLEX 11.5 software version are:
Still more improved reporting of fishing gear
Wider CPA warning against AIS targets
New demo for Koden CVF-FX2
New function to inspect tides anywhere
More names on vector charts
Improved reporting of fishing gear
Fixed nuisance corruption of Atec-400
Adjusted hardness values again from Kaijo KSE-300, to be from -50 to -10
Free Norwegian charts, "Norgeskart", always included
Adjusted hardness values from Kaijo KSE-300
Upgraded NMG charts from NGU
Curl upgraded for all supported versions of Scientific Linux
With Berner function, to make plotter objects more visible
Always shows CPA for AIS targets, to help trawlers
Modified position format in fishing gear report emails
New system for reporting fishing gear over email
New free Norwegian charts, "Norgeskart"
Better support for Atec-200
Internet access always displayed
Better Atec-200 performance through automatic minimum range
New system for hotkeys: bind various symbols to keyboard keys
Optional smoothing of ROV positions
Minor: faster mousewheel zooming, faster zoom & pan during rapid mapping
Minor: Better screen refresh, improved URL listing, number of AIS targets
Minor: Difficult tide names, mouse wheel zooming
Minor: Atec halfauto, Atec timing, Atec cosmetics, AML BaseX2
Bug fixes: NMEA GSV, theoretical crash, Atec-400
Bug fixes: Autoreporting, various vector chart issues
Bug fixes: Spurious warnings and Curl RPMs for fresh Olex installs
Bug fixes: Reporting fishing gear, multibeam sound velocity startup
Bug fixes: Automatic turns in Autonav for some autopilots
Bug fixes: Internet marker, F2 keypress, ergonomics
Bug fixes: HDT outside bounds, invisible hotkeys
Bug fixes: AIS distances, Autopilot turns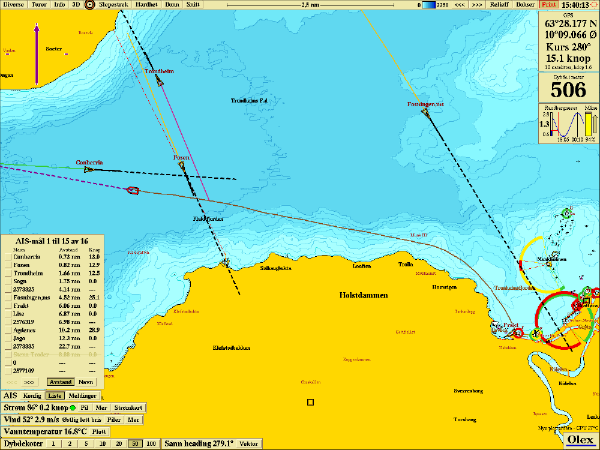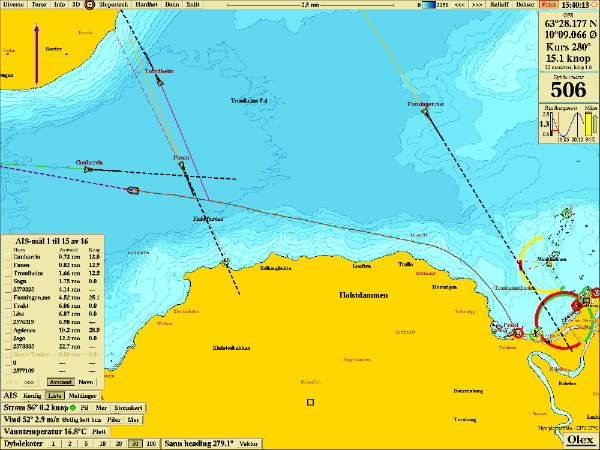 After years of research, development and testing, OLEX AS has developed and keeps refining the most comprehensive seafloor topography mapping system available on the market. OLEX systems are based on Linux, and are considered to be the most stable systems of their kind available on the commercial market. Speed, flexibility and user-friendliness are important keywords to explain their success.
OLEX can use official and unofficial vector charts, in S57, shape and SOSI format, from Hydrographic Offices and commercial vendors. The navigation charts are displayed alongside the collected seabed data and the chart visualization software will, always strive to achieve a clear and informative chart image and prevent the screen from filling up with unnecessary information, by displaying only information relevant to the current zoom scale. Zooming and chart display are fast, easy and seamless.
For further information you may contact the Official Distributor and Support Center for Greece and Cyprus:
Aegean Electronics SA
4 Zosimadon Str, Piraeus 185 31, Greece
Tel: +30 210 4123000