Raytheon Anschütz at POSIDONIA 2018
The SYNAPSIS ECDIS NX, Standard 30 MF Gyro Compass (HRG) and autopilot PilotStar NX of Raytheon Anschütz were presented at Posidonia 2018 (June 4-8).
The SYNAPSIS ECDIS NX is an advanced ECDIS with a modern, state-of-the-art design plus a friendly and intuitive user interface.
ECDIS NX was designed from the ground up with continuous user participation – making ECDIS NX the world's first user-defined ECDIS. The objective with ECDIS NX was not only to explicitly consider the human element in all stages during software design, but also to create an application with the help of seafarers for seafarers and with an unparalleled intuitiveness in use and function. Crews will familiarize themselves quickly with the new user interface and the human-centered operation concept. This makes ECDIS NX also a perfect solution for retrofits.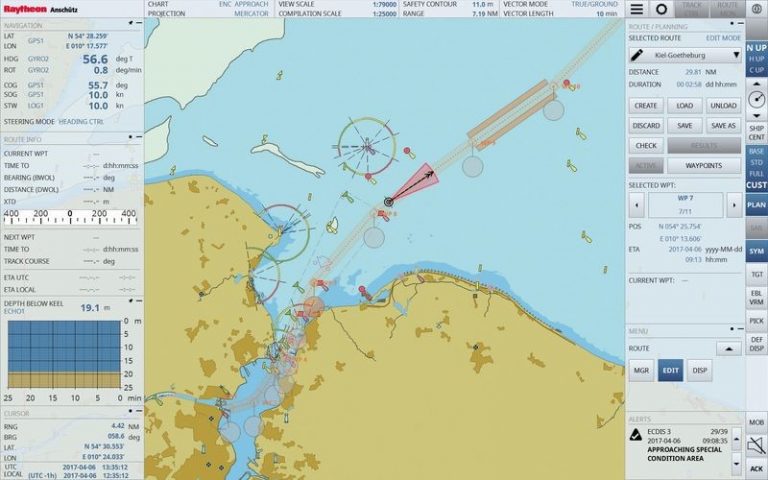 ECDIS NX was designed to effectively support the daily tasks and use cases of navigators. During route monitoring the navigator benefits from a maximum chart area display. Important operational functions are available on a single click, and indications can be fixed or retracted as needed, based on navigator preferences.
The ECDIS NX provides:
Clear user interface provides the most intuitive operation
Wide screen displays in high resolution and retractable UI panels for maximized view of the charts
Quick access bar for essential functions (accessible at a single touch)
Smart tools for route planning (e.g. Wizard based voyage planning and graphical editing of routes)
Speed and ETA calculation for each waypoint and leg in UTC or local time
Editable look ahead zones for anti-collision, route monitoring and anti-grounding
Track control cat. C with Anschütz autopilots
Advanced INS functions now standard for a stand-alone ECDIS
Support of Admiralty Information Overlay (AIO by AVCS)
Fully type approved according to IEC 61174 Ed. 4.0 and IHO Presentation Library S-52 Annex A Edition 4.0 incl. DNV GL certificates
The Standard 30 MF Gyro Compass is the second generation of maintenance free gyrocompasses from Raytheon Anschütz based on hemispherical resonator gyro (HRGs) technology.
The use of HRG technology together with the simple design makes it extremely reliable with no wear and tear and no need for maintenance. The mean time between failures (MTBF) value of Standard 30 MF is more than 100,000 hours, which is a multiple of the MTBF values of optical gyros (such as FOGs).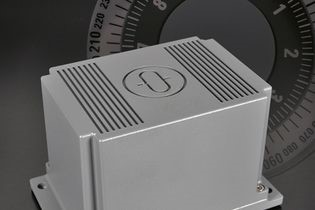 The HRG technology has already been used in Horizon MF – the predecessor of Standard 30 MF – and has proven its reliability and accuracy in more than one hundred installations. The new Standard 30 MF is even smaller as its predecessor, can be used as rate-of-turn indicator (required for vessels above 50.000 GT according to SOLAS) and features an optimized integration into a Raytheon Anschütz heading management system. With Ethernet and CAN-bus interfaces, cabling efforts are minimized.
The Anschütz Standard 30 MF Gyro Compass has a strong focus on robustness. Among others, Standard 30 MF settles at rough-seas and provides heading output (with reduced accuracy) even if speed and latitude input fails – a significant difference to other compass systems.
For vessel with DP system, Standard 30 MF offers an additional benefit: some classification societies allow the replacement of a motion reference unit (MRU) with the roll and pitch output of Standard 30 MF. This reduces investment cost but also maintenance cost as no periodical drift calibration is required.
The Standard 30 MF Gyro Compass (HRG) provides:
High accuracy of 0.25 degrees, ultra-robust design
Highly cost-effective over lifetime through maintenance-free technology
Superior and durable HRG technology (MTBF >100,000 h)
Significantly better long-term stability than an FOG, no drift
Heading sensor and MRU in one (roll and pitch output), thus reduction in investment and maintenance cost
Settling time of only one hour, settles at rough sea states
Heading monitor and selector with automatic switch-over (configurable)
Automatic speed / latitude error correction
Individual speed error correction
Independent transmitting magnetic compass (TMC) path
Ethernet interfaces for data communication with Integrated Navigation Systems or Central Alert Management Displays
Perfect for installation in new-build and for retrofit projects or an extension of Standard 22 gyro compass systems
IMO approved for standard and high-speed crafts and as rate-of turn indicator
The PilotStar® NX offers superior steering performance, thanks to decades of experience with its predecessor PilotStar D and the proven Anschütz steering algorithms. PilotStar NX also stands out with an extended range of functionality and an intuitive operation via the seven-inch touch TFT display.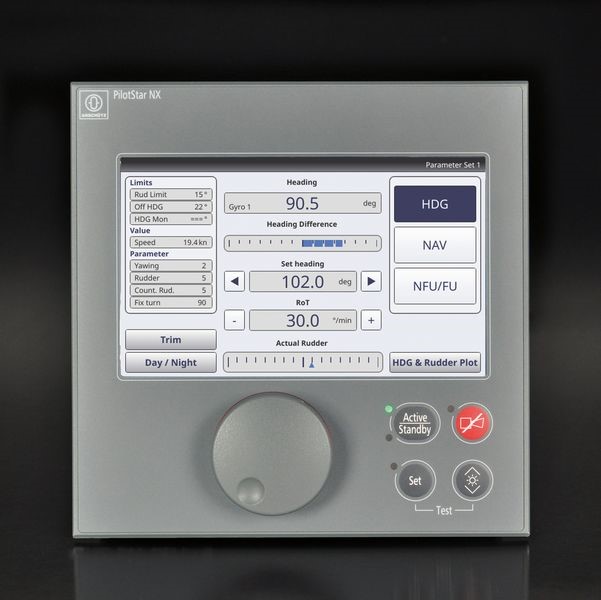 The autopilot is approved as heading control system for standard and for high-speed crafts. The PilotStar NX includes latest technical developments such as Ethernet communication and bridge alert management – this makes PilotStar NX easy to integrate into various system environments.
The PilotStar NX provides:
Intuitive operation thanks to 7" touch TFT display and large rotary knob for heading changes
Graphical user support with heading & rudder plot and track data for perfect adjustment of the autopilot parameters
Trim mode and fix turn for workboat applications
Manual control of steering gear
Connection of NautoSteer AS tiller(s) for the design of compact steering gear control systems
Ease of use service features for simple and safe commissioning
Compliant to latest performance and test standards for bridge alert management and standardized Ethernet communication (IEC 61162-450)
Raytheon Anschütz products and systems are supported globally by a centrally coordinated first-class service network of 8 manufacturer's own stations, 20 large service depots and more than 200 service points around the world with original spare parts and highly-trained service partners' engineers.
For further information you may contact the Official Distributor and Support Center for Greece:
Aegean Electronics SA
4 Zosimadon Str, Piraeus 185 31, Greece
Tel: +30 210 4123000
E-mail: [email protected]