B&G and the Vendée Globe
Vendée Globe skippers put their trust in B&G to steer, navigate and sail them safely around the world with reliable and high-performing electronics since the race was established by legendary solo sailor Philippe Jeantot in 1989. Non-Stop, Solo, and Without Assistance, the Vendée Globe is regarded as the toughest race in sailing. Of the 151 boats which have crossed the start line off Les Sables d'Olonne, in its 31-year history, just over half of those have reached the finish line. The 33 skippers entered in the 2020 edition of the race will sail 21,638 miles, striving to beat the current record of 74 days, 3 hours, and 35 minutes. Most of this year's fleet put their trust in B&G autopilots, radars, instruments, and chart plotters to enable them to sail faster and safer as they circumnavigate the globe in their magnificent IMOCA 60s.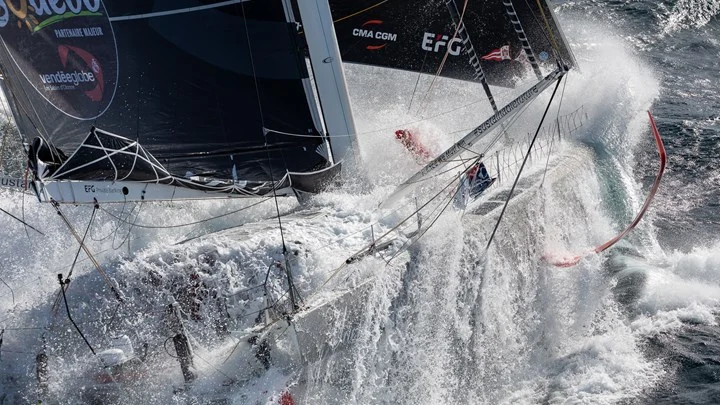 The B&G Vendée Globe Ambassador Team comprises:
Thomas Ruyant, LinkedOut
Boris Herrmann, SeaExplorer
Ari Huusela, Stark
Didac Costa, OnePlanet One Ocean
B&G is proud to be a key part of the electronics installation on board much of the Vendée Globe fleet. Other competitors that put their trust in B&G include:
Corum L'Epargne – Nicolas Troussel
Campagne de France – Miranda Merron
Banque Populaire – Clarisse Cremer
Charal – Jérémie Beyou
Hugo Boss – Alex Thomson
Apivia – Charlie Dalin
PRB – Kevin Escoffier
DMG Mori – Kojiro Shiraishi
Pure-Best Western – Romain Attanasio
Maitre Coq IV – Yannick Bestaven
Bureau Vallee 2 – Louis Burton
Time for Ocean – Stéphane Le Diraison
4myPlanet – Alexia Barrier
Newrest – Fabrice Amedeo
All boats of the Vendée Globe measure 18,28 m long with a 4,50 m draught. With a large sail area, they are the most powerful monohulls of the planet led by a solo skipper. They can go beyond 30 knots in downwind conditions. The gauge of these race animals is defined by the IMOCA class (International Monohull Open Class Association), founded in 1991 and supported by World Sailing, the International Sailing Federation.
Since its establishment in1956, B&G electronics are the preferred equipment on many of the world's leading sail racing yachts, including the majority of competitors for competitions such as the Vendée Globe, America's Cup, the Sail GP, and the Volvo Ocean Race.
For further information you may contact the Official Distributor and Support Center for Greece:
Aegean Electronics SA
4 Zosimadon Str, Piraeus 185 31, Greece
Tel: +30 210 4123000