JMC releases s.v.5.5.1R for SP MAX III
JMC announced the release of software version 5.5.1R for Professional Chart Plotter Super Pilot MAX III. Considering the functionality added and the enhanced user experience allowed, it is recommended that existing systems with older software versions be upgraded to this latest version. A new User Manual is built into the system menu and is also available as a pdf file or as a printed document from local dealers. Using this latest software update the JMC SP MAX III remains the top choice of those looking for a rugged, easy-to-use Professional Chart Plotter.
WARNING: Marine Software Family 5.x (including all versions starting from release 5.0.0R), is NOT compatible with any legacy NON-Chirp Fish-Finders (FFs). Therefore:
DO NOT UPDATE YOUR SW If you must use any NON-Chirp FF with your navigation system. Such NON-Chirp FFs are only compatible with Marine SW 4.2.0R (and earlier versions);
YOU MUST UPDATE YOUR SW If you will use a new Black box Fish Finder with Chirp technology (BBFF-Chirp). The new BBFF-Chirp is only compatible with Marine SW 5.0.0R (and later versions). Remember that any existing CW transducer that you have installed and used with a legacy NON-Chirp FF can also be used with a new BBFF-Chirp, although the BBFF-Chirp will function in CW mode unless it is connected to a Chirp transducer.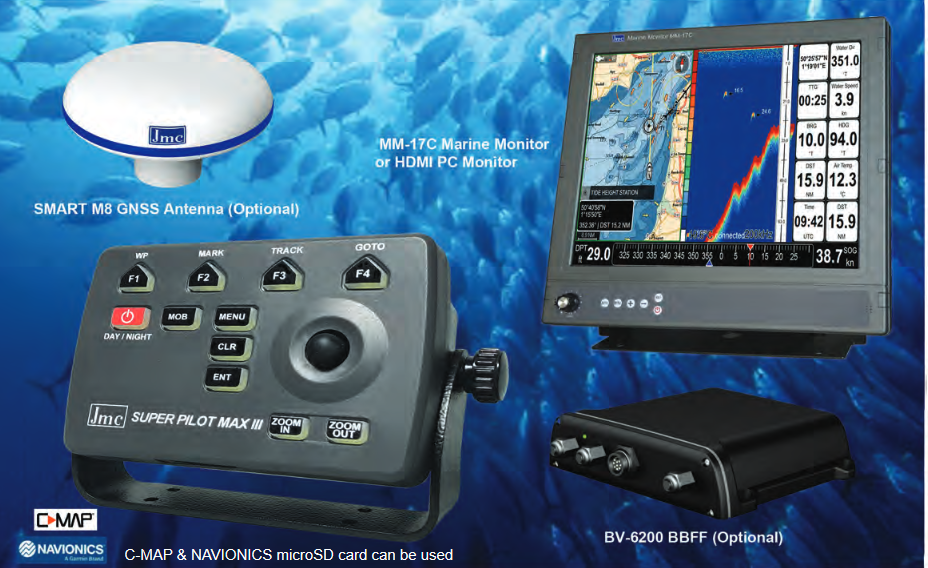 New features which were added to SP MAX III with the latest s.v5.5.1R are:
  ARPA targets via NMEA
  Automated routing waypoints expanded from 50 to 250
  Set number of fuel tanks on Engine/Instruments Page
  Improved Navionics user data and chart updates management via Wi-Fi
  Track color improved in night mode
  Set range of Coolant Temperature on Engine/Instruments Page
  Fish Finder transducer selection management improved
  Improved Fish Finder gain setting
  Improved night mode palette colors
  Added show mark as pointer feature
Improved existing features of SP MAX III are:
AIS
  Sort by tracking column has been added
  Sort by icon or type has been added
  Highlighting of selected AIS target has been improved
  Target tracks are recorded and kept on display after system restart
  Target tracking setting is retained after system restart
  Easier access to AIS legend
  Added search function by MMSI number for static information on unreceived vessels
RADAR
  Controller: Radar transmit mode button more visible on internal menu
  Setting changes are now visible in real-time
FISHFINDER
  Fish Finder transducer selection management improved
  Improved Fish Finder gain setting
  Resolved transducer description legibility when the large font is set
INTERFACE IMPROVEMENTS:
  Added shortcut buttons to list and setting menus
  Added faster settings access
  General scrolling improvements
  MOB activation / deactivation improved
  Improved instruments settings
OTHER
  Improved SW updating control and status info
  Track recording popup confirm added
  Marks: improved instant menu options
  Navionics Autorouting performance has been improved
  General improvements to Instrument Page settings
  Added Navionics SonarChartLive simulation
  Improved C-Map map presets management
  Clarified magnetic variation references in SW and UM
Bugs fixed with the latest s.v.5.5.1R are:
  Management of the split-screen actions has been improved
  Controller: unit does not reboot after leaving the warning page
  Add "SBAS Mode" option added for external GPS(WAAS) setting
  Resolved sentence limitations in serial port output
  BRG value indication improved
  User Manual & UI Improvements: VOLTAGE value on databox description
  Port communication logs recording correctly
Chart Plotting systems display information from electronic charts and integrate information from Global Navigation Satellite System (GNSS) and other sensors, (AIS, etc) to create an aid for safe navigation. In the JMC SP MAX III, general navigation purposes are served from two levels of enhanced background map, which are embedded as standard, allowing global zoom up to 2 n.m. For detailed and updated information on specific areas, an extensive selection can be made from C-MAP (4D, MAX) and Navionics Charts in micro SD format. Using these detailed charts makes available the assisted routing functionality menus; Easy Routing for C-Map 4D Charts or Autorouting for Navionics Charts. Furthermore, an optional FishFinder module (BV-6200) can be connected and operated allowing connection to selected CHIRP transducers at various frequency bands between 45 to 210 kHz and up to 1 kW of power output. Compatibility with older CW transducers of vintage JMC Echo Sounders and others is also provided, with the same module, at single or dual frequencies (50/200 kHz) and output power of 600 W or 1 kW. Multiple external I/O connections (1 X NMEA-2000 and 2 X NMEA-0183) also provide for interfacing with AIS, Wind data, Engine monitor, autopilot, etc. Wi-Fi plus Mirror Control functions, using a smartphone or Tablet PC, are also provided. The JMC SP MAX III Chart Plotter provides extensive and easy possibilities for customization to each user's operational needs.
The standard JMC Super Pilot MAX III delivery consists of a compact control unit with an integrated chart card reader plus a high-performance 72-channel SBAS enhanced GNSS antenna with a 10-18Hz update rate. The use of an (optional) 12" or 17" JMC Marine Monitor is recommended for optimal performance. Nevertheless, any type of display can be used, since both 4:3 and 16:9 aspect ratios are supported at various resolutions. A wireless control unit (2,4 GHz) is optionally available, giving full remote access to all plotter functions. The modular construction of the system allows for easy and ergonomic installation even in smaller vessels. While the one-touch menu keys of the control unit are conveniently backlit and are highlighted once activated, simplifying operation in low light conditions. Moreover, the simple Greek menu, as in all JMC Chart Plotters, is providing an intuitive and user-friendly interface.
For further information you may contact the Official Distributor and Support Center for Greece:
Aegean Electronics SA
4 Zosimadon Str, Piraeus 185 31, Greece
Tel: +30 210 4123000
E-mail: info@aegeanel.com