Kaleidescape Premiere, end of sale
When Kaleidescape introduced the first Premiere products in 2003, the response was amazing. Within a few years, Kaleidescape could be found in luxury homes and Superyachts all over the world, and Kaleidescape became known as the finest way to enjoy movies. In those days, CDs, DVDs, and Blu-ray discs were the only source of content for Kaleidescape systems. That changed in 2013 when Kaleidescape launched the first Internet-delivered Blu-ray quality movies. Two years later, Kaleidescape began delivering 4K Ultra HD films via the Internet, and the new flagship Strato line of products was introduced for playing such high-fidelity content. Over the years customer preferences for shiny discs gave way to Internet-delivered content or lately to the Marine Movie Service (available for Yachts), and consumer demand for products that play discs declined, resulting in a scarcity of certain parts required to manufacture the Premiere product line. For this reason, Kaleidescape decided to discontinue the production and sale of Premiere products on July 31, 2020. These include the 1U+ Movie Server, the M500 and M300 Players, and the M700 and DV700 Disc Vaults.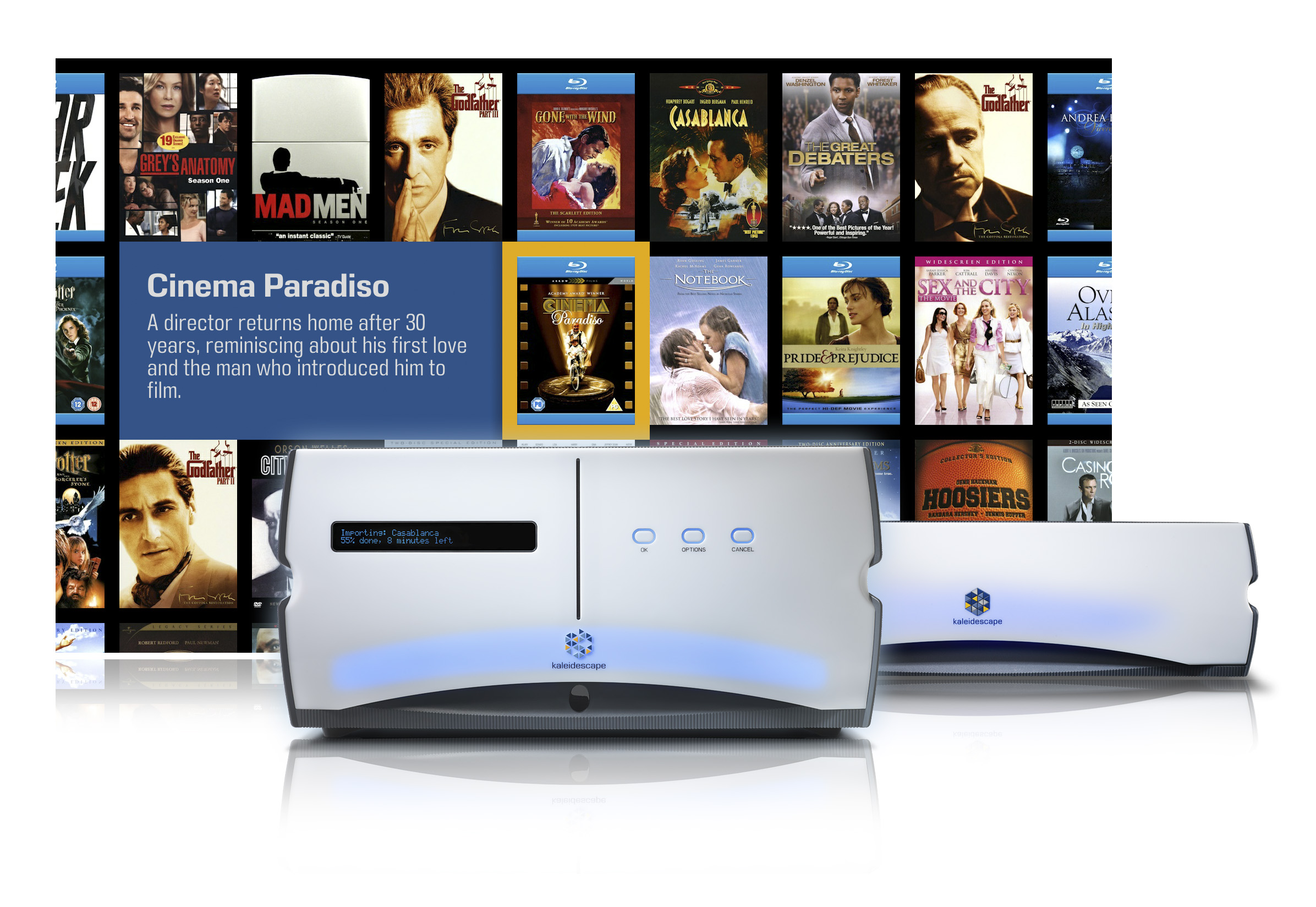 Nevertheless, Kaleidescape remains focused on delivering both the finest cinematic and user-support experience. So repair and replacement support for in-warranty Premiere products will continue as before. Moreover, Kaleidescape will continue to make business-reasonable efforts to support out-of-warranty products, depending on parts availability. Disk cartridges for the 1U, 3U, and 1U+ Servers will also continue to be available. The Co-Star Switch, HDMI Kit plus software licenses for Crestron NVX and Lumagen Radiance Pro will also continue to be available. So proper integration of the latest 4K UHD Strato products to legacy Premiere systems using a single user interface will continue being supported. Kaleidescape will also continue to support disc recognition for Premiere systems for DVDs, Blu-ray Discs, and music CDs. However, recognition will not be provided for newly released music CDs after June 30, 2020. Eligible existing Premiere users will have special upgrade options available for their systems. These disc-based servers and players will be possible to be upgraded to the latest, digital content based Terra and Strato products through the "Premiere-to-Strato Trade-Up Program".
It should be noted that Kaleidescape does not perform Disc-to-Digital content upgrades at the factory. However, a custom Disc-to-Digital service is possible for licensed titles available for purchase from the Marine Movie Service and already appearing in an existing Premiere system's movie library onboard. These titles can be converted to digital content versions and downloaded to the Strato system, subject to the associated digital upgrade costs. While Premiere users who have disc-based movies that are not available to purchase digitally from the Kaleidescape Marine Movie Service might want to keep their Premiere system and possibly upgrade some of the components to newer Premiere components. These users are also good prospects for a Co-Star Switch plus a Strato system so they can enjoy the finest quality 4K Ultra HD content onboard their Yachts.
For more information about Kaleidescape systems and the Marine Movie Service you may contact the Official Distributor and Support Center for Greece and Cyprus:
Aegean Electronics SA
4 Zosimadon Str., 185 31 Piraeus, Greece
Tel: +30 210 4123 000
E-mail: info@aegeanel.com