RAYTHEON
Raytheon Anschütz offers a wide range of nautical equipment – starting with well-proven Anschütz gyros and autopilots, through state-of-the-art radar sensors, to bridge navigation workstations for radar or ECDIS and complete Integrated Bridge and Navigation Systems (INS / IBS). Special solutions are available for naval ships, submarines and surveillance applications.
Integrated Bridge/Navigation Systems, Submarine Solutions, Surveillance
Radar/ECDIS/Conning
Raytheon Anschütz offers state-of-the-art network-based radar transceivers and a new generation of multifunctional workstations for navigation, which provide the base for Radar, ECDIS or Conning applications – as needed by the respective customer.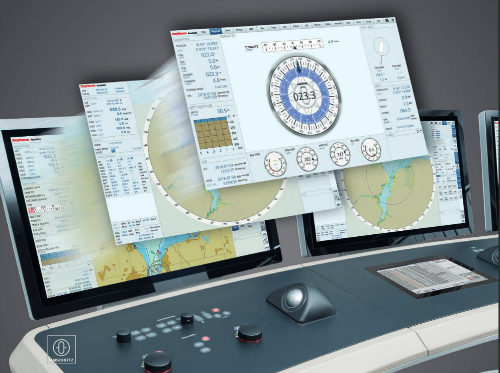 Manual Steering Gear Control Systems
Raytheon Anschütz offers highly accurate, safe and flexible manual steering gear control systems, which can be configured according to any customer requirements.
Autopilots
With the experience of thousands of autopilot installations, Raytheon Anschütz has developed three different series of (adaptive and non-adaptive) autopilots, corresponding to the requirements of different vessel types.
Gyro Compass Systems/Repeater Compasses
Being the inventor of the gyro compass, Raytheon Anschütz offers sophisticated and cutting edge gyro compass technology based on over 110 years of experience. Raytheon Anschütz also offers maintenance-free solid-state gyros.
Special Naval/Submarine Equipment
In addition to the wide-ranging product line for surface ship applications, Raytheon Anschütz can offer a specialized product line as well as customer-specific applications for submarines. The product line extends the portfolio for example with advanced data management systems, chart tables and navigation consoles, various single-/multi-purpose displays as well as battery monitoring and customized 3D steering controls for submarines.
Other Sensors and Communication Equipment
Our integrated solutions are supplied as turn-key solutions with all required navigation sensors and systems or radio communication equipment.