Simrad and B&G updated their NAC-2 & NAC-3 Autopilot Computers
Simrad and B&G announced the release of new software (version 1.1.02.00) for NAC2 and NAC3 Autopilot Computers. The main reason for the new software is to support a hydraulic flow switch, used with the SteadySteer feature, to automatically override the autopilot when manually turning the wheel. Some more fixes, based on field issues and internal testing, were also made with the following summary of changes:
Support flow switch for SteadySteer function
The alarm "No active autopilot controller" should not be triggered when the autopilot is in STBY mode or when autopilot is powered up.
Auto/standby button should not work with other autopilots like Ghost (trolling motor).
It is recommended to upgrade the software during the next service attendance onboard if the users experience problems related to the issues fixed and/or need to have access to the new SteadySteer function; so not all systems will require this upgrade. The new software will be introduced into the factory for the next production builds; however, LC stock will not be upgraded. Moreover, new units with the latest software will be used in SteadySteer kits.
Software upgrade on existing systems can be done from Simrad AP44/48 and IS42 or B&G  Triton² using USB, MFD using the SD or micro SD card slot, or by using the ST10 and swap tool software.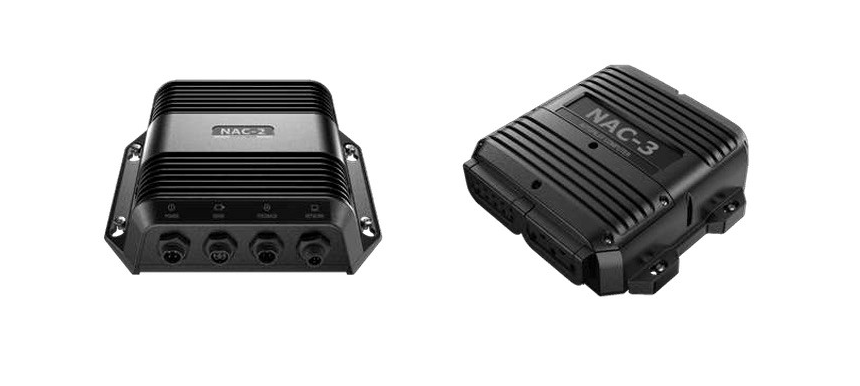 A properly installed, connected and set-up Autopilot Computer is the brains of a Simrad AP40-series or B&G Triton² Autopilot System. The Autopilot Computer continuously monitors data from compasses, rudder feedback units, and other on-board instruments, and steers the vessel to the selected heading or course. The NAC-3 Autopilot Computer is recommended for boats above 10 meters in length. It is rated to operate high-current drive pumps including the RPU160 and RPU300, mechanical drives such as the DD15, hydraulic linear drives such as the HLD2000 series, and solenoid valves. While the NAC-2 is a version suitable for smaller vessels, with lower current demands. The steering innovations of Simrad Continuum and B&G Reflex control algorithms build upon a legacy encompassing over 60 years of autopilot development, which continues today at Navico's autopilot research hub in Norway.
For further information you may contact the Official Distributor and Support Center for Greece:
Aegean Electronics SA
4 Zosimadon Str, Piraeus 185 31, Greece
Tel: +30 210 4123000